Are you looking for the best coconut shampoo and conditioner products?
Coconut shampoo and conditioner can be a great choice for those who want to keep their hair healthy, hydrated, and nourished. Not only does it provide essential nutrients to your hair but also helps protect against damage from heat styling tools. Plus, its natural ingredients make it an ideal choice for those with sensitive scalps or allergies.
With so many options on the market today, it can be hard to know which ones are the right fit for your needs. That's why we've put together this guide – so you can find out what benefits coconut shampoo and conditioner have to offer and how they compare to other products on the market.
Read our article now to learn more about finding the perfect product for your unique hair type!
How FactsFanatics Chooses These Coconut Shampoos and Conditioners
Choosing the right coconut shampoo and conditioner can be challenging. With so many products on the market, it's hard to know which ones are worth your time and money.
You don't want to waste precious hours researching or trying out different products only to find that they don't work for you. And who has time for that?
FactsFanatics is here to help! Our expert reviewers have done all of the research for you, so you don't have to spend unnecessary time or money on the wrong product. We've compiled a list of our top picks for coconut shampoos and conditioners, making it easy for you to make an informed decision about what will work best for your needs.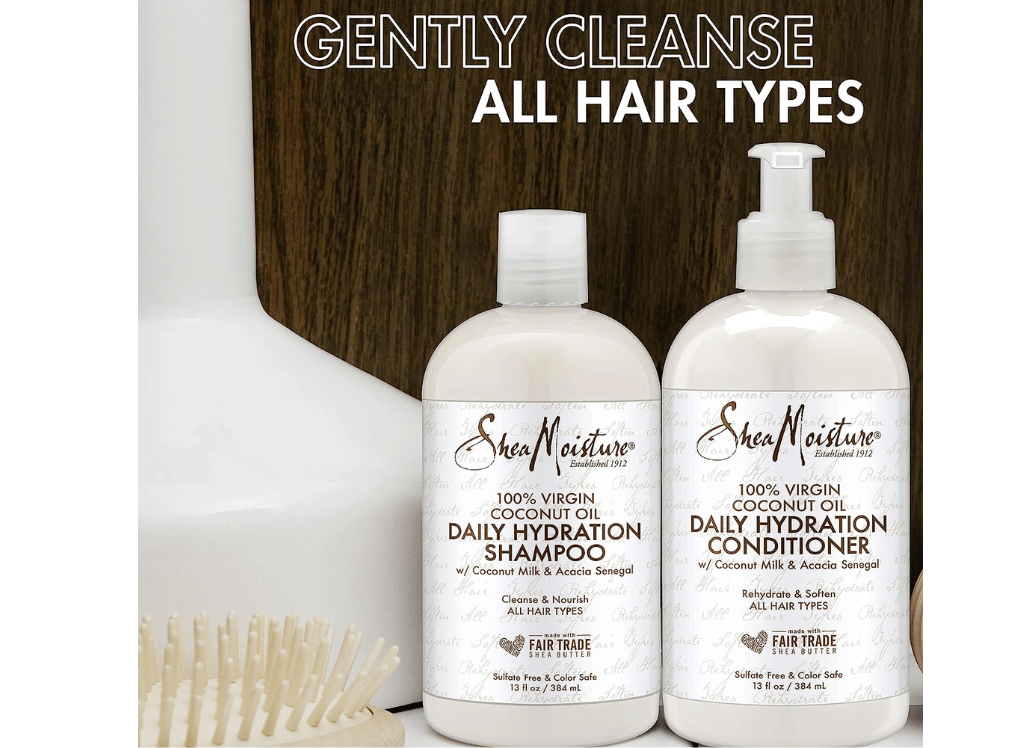 Shea Moisture 100% Virgin Coconut Oil Daily Hydration Shampoo & Conditioner
Check Price on Amazon
Why We Love It
Shea Moisture's Coconut Oil & Ciut Cream Shampoo is an intensive conditioning and hydrating treatment specially formulated to nourish dry and damaged hair. This blend of 100% virgin coconut oil and all-natural shea oils delivers intense hydration to revive your hair, giving it a natural shine. The coconut oil ensures that your locks stay conditioned for longer, while the creamy coconut milk helps keep them tangle free. This shampoo also reduces frizz with its natural ingredients, sealing open cuticles for smooth curls without flyaways. Rich in Acacia Senegal extract and other natural elements, this shampoo softens rough coils adding extra manageability to your style.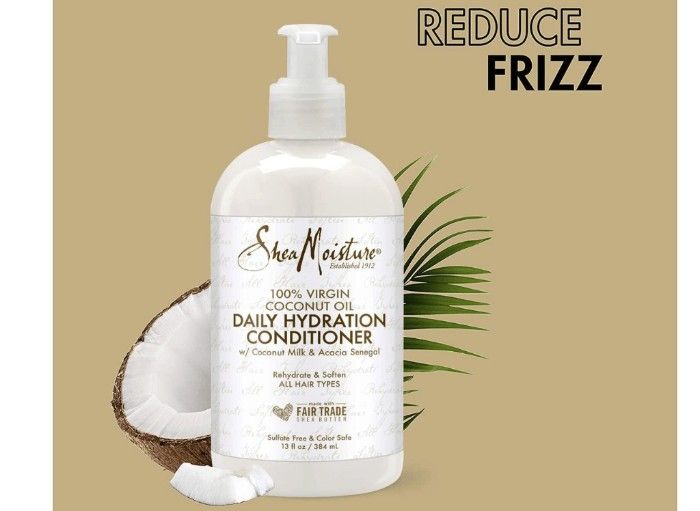 About This Product
Product Benefits: Hydrating, Softening, Moisturizing, Nourishing
Material Type Free: Paraben-free, phthalate-free, sulfate-free
Brand: SheaMoisture
Hair Type: All
Scent: Coconut
---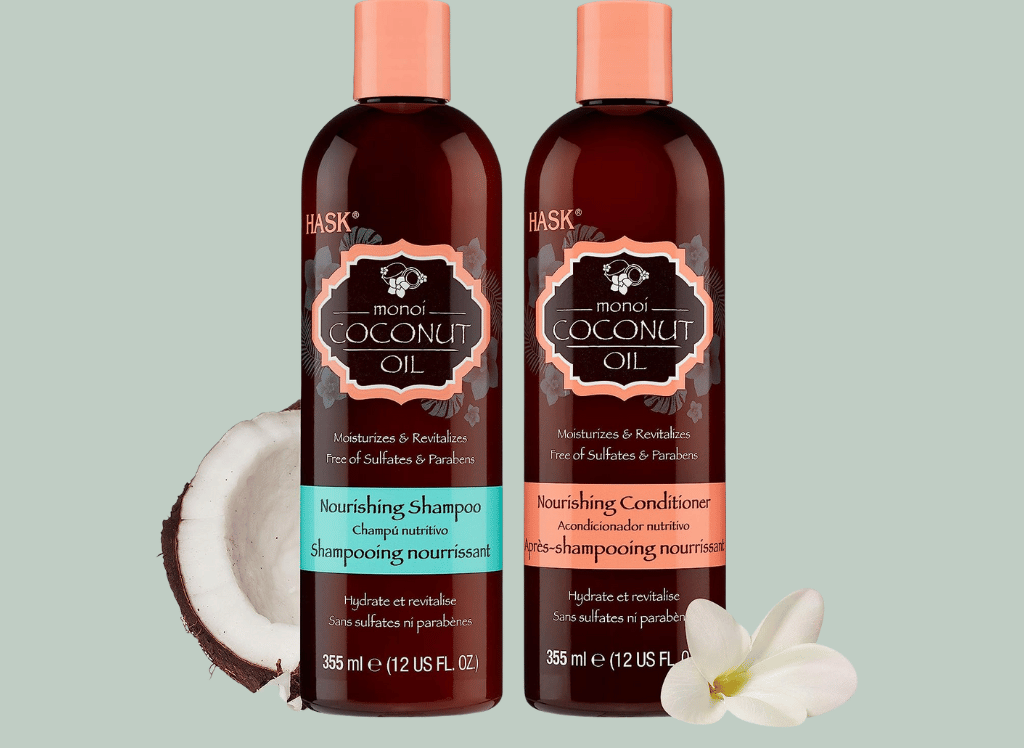 HASK COCONUT MONOI Nourishing Shampoo + Conditioner
Check Price on Amazon
Why We Love It
HASK is a super moisturizing hair care collection designed to restore softness and elasticity while boosting strength. The Coconut Oil in the products acts as a barrier seal around each strand, preventing it from becoming dry and dull while also repairing breakage and split ends. HASK has been used professionally by Hollywood stylists on set to keep their clients' hair looking healthy, hydrated, and resilient. With this powerful collection of products, you can have luxurious locks that are radiantly renewed!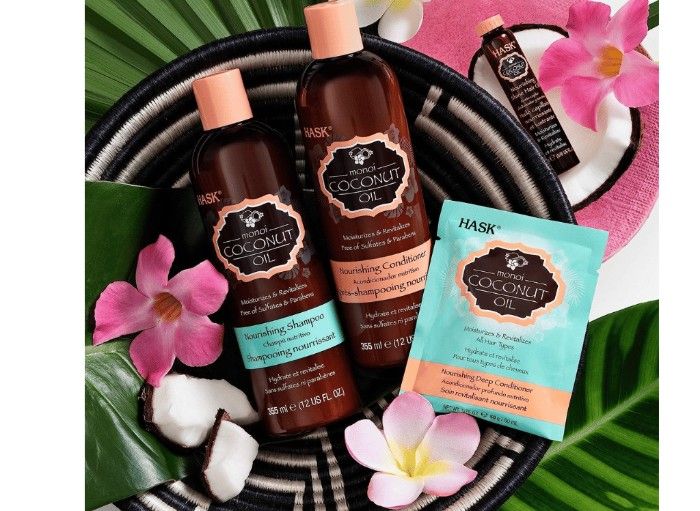 About This Product
Product Benefits: Anti-Breakage
Material Type Free: Paraben Free
Item Form: Cream
Brand: HASK
Hair Type: For All Hair Types
---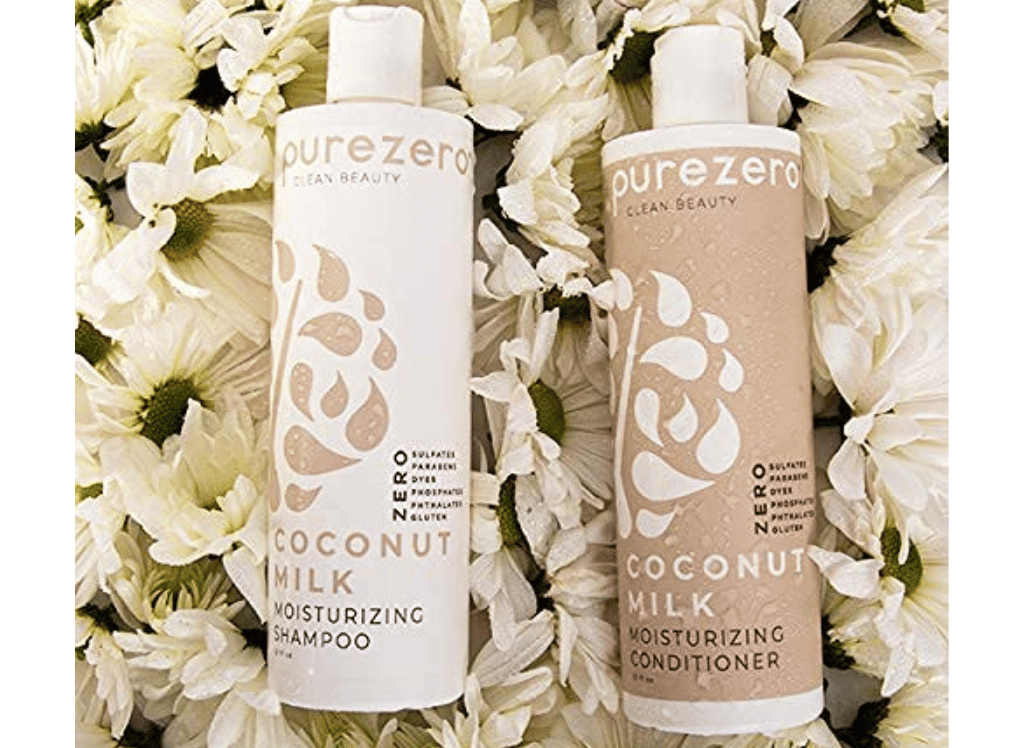 Purezero Coconut Milk Shampoo & Conditioner
Check Price on Amazon
Why We Love It
Purezero Coconut Milk Collection is the perfect solution to bringing life back into dry and damaged hair. This ultra-moisturizing formula locks in moisture reduce dandruff and add a luxurious shine and glow that can leave you feeling beautiful all day long. Purezero's proprietary formulas provide salon performance without compromising on cleanliness - there are no sulfates, parabens, dyes, gluten, phosphates or phthalates in any product from this collection. All products are 100% vegan and never tested on animals; they're also proudly made in the USA and carbon neutral certified by CarbonFund. Get rid of dryness once and for all with Purezero!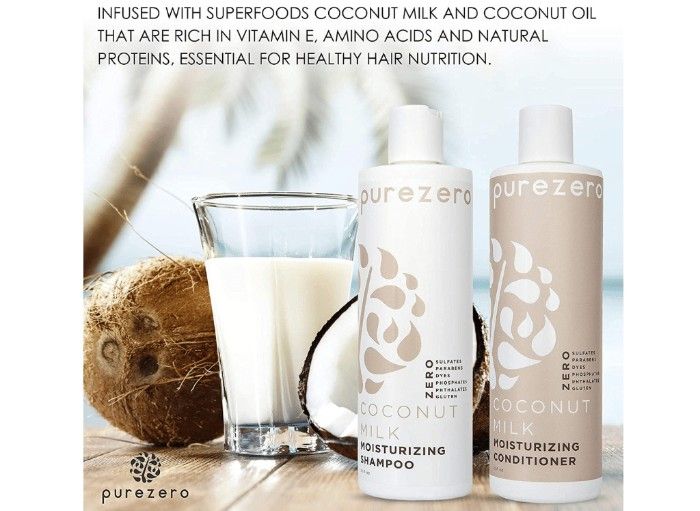 About This Product
Product Benefits: Anti-frizz, Hydrate, Softness
Material Type Free: Free of Sulfates, Parabens, and Dyes. 100% Vegan
Item Form: Cream
Brand: Purezero
Hair Type: Damaged Hair, Color Treated Hair
---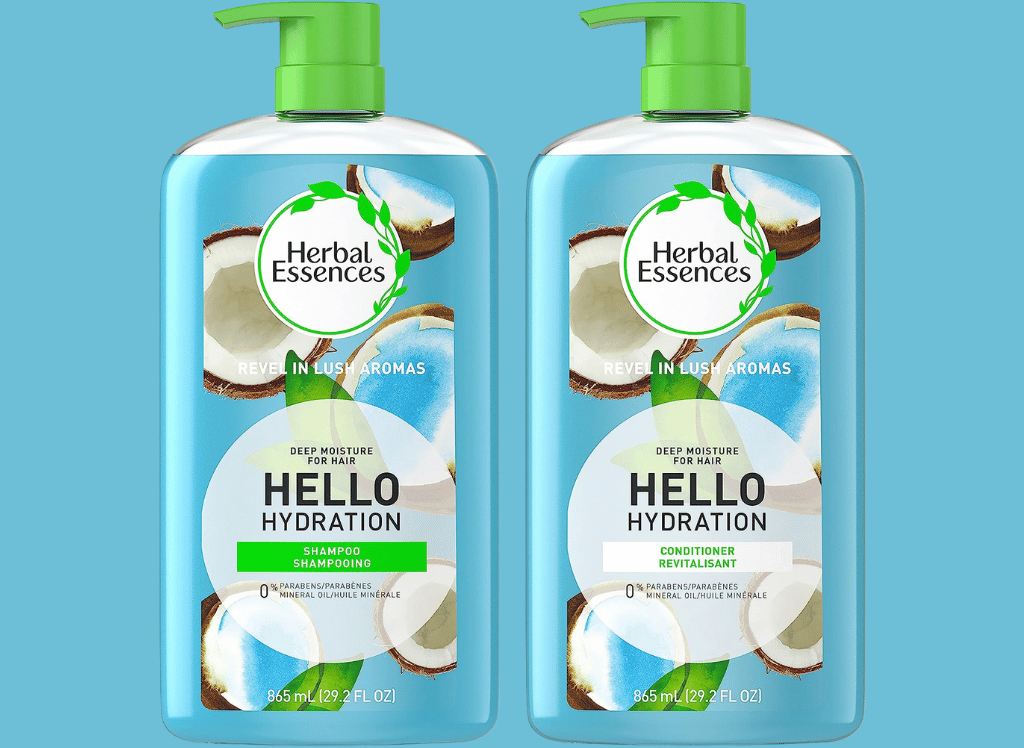 Herbal Essences Moisturizing Shampoo and Conditioner
Check Price on Amazon
Why We Love It
Herbal Essences provides a luxurious cleansing and hydration experience with its 29.2 fluid-ounce bottles of shampoo and conditioner. Its expertly crafted formula is gentle on your hair while giving it a deep cleanse and rich moisture. This product has been dermatologist tested, Paraben-free, Mineral Oil-free, and certified cruelty free by PETA so you can trust that the ingredients are safe for use. Enjoy all the benefits of this amazing product without any worries about potential harm to yourself or the environment!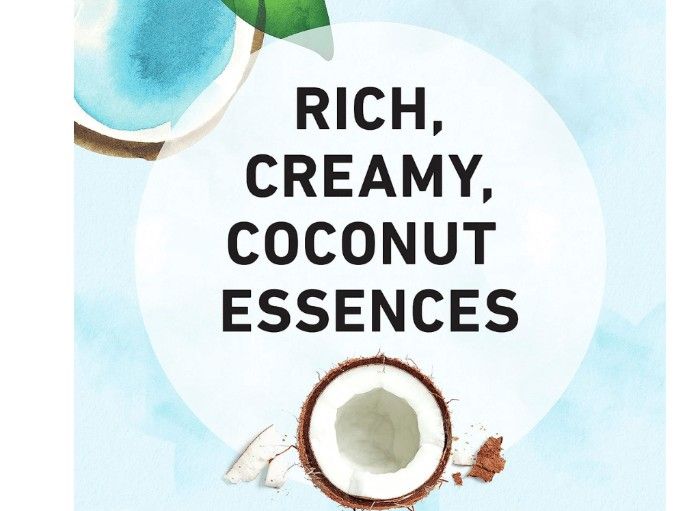 About This Product
Product Benefits: Hydrating, Moisturizing, Clean
Material Type Free: Oil Free, Paraben Free
Item Form: Liquid
Brand: Herbal Essences
Hair Type: Dry, Straight
---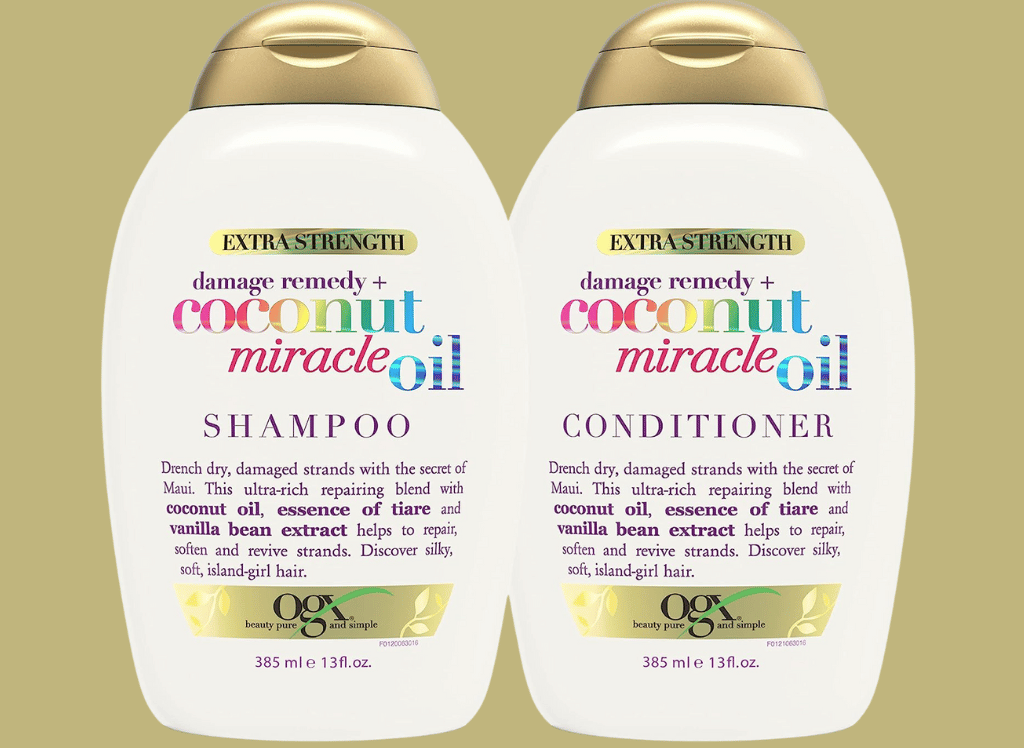 OGX Extra Strength Damage Remedy + Coconut Miracle Oil Shampoo & Conditioner
Check Price on Amazon
Why We Love It
OGX offers an ultra-rich blend of coconut oil and vanilla extract that helps create soft, touchable, and healthier-looking hair. This formula is perfect for damaged, coarse, curly, and frizzy hair types as it calms frizz and tames flyaways while leaving your hair feel silky soft bouncy & shiny. OGX products are inspired by nature to help you look your best without relying on unattainable looks - they aim to make the hair appear fuller, smoother, or bouncier while smelling irresistible. With OGX's various collections of haircare products available, you can always rock the unique style that you have!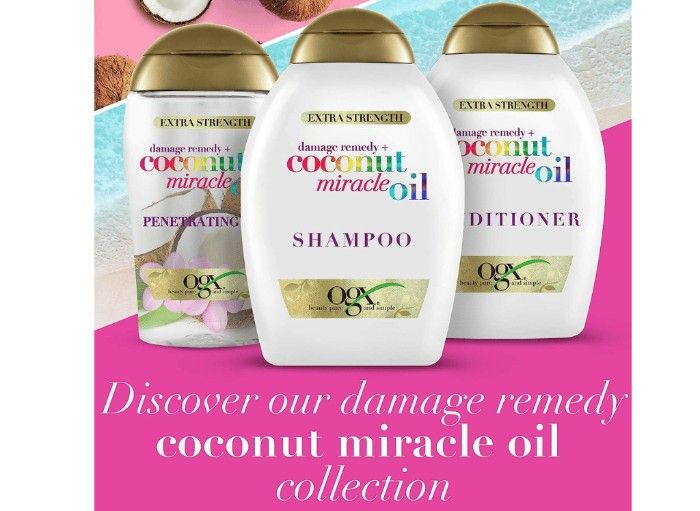 About This Product
Product Benefits: Softening
Material Type Free: Sulfate Free
Item Form: Cream
Brand: OGX
Hair Type: Coarse, Color Treated, Curly, Damaged
---
FAQ:
With so many different coconut shampoo and conditioner options on the market, it can be hard to know which one is right for you.
You want to make sure that you're choosing a product that will give your hair the nourishment it needs, but with all of the choices available, how do you know what's best?
Don't worry! We've got you covered. Our list of Frequently Asked Questions about coconut shampoo and conditioner will help guide your decision-making process so that you can purchase with total confidence. Get ready to experience softer, shinier hair in no time!
1. What Are the Benefits of Using Coconut Shampoo and Conditioner?
Coconut shampoo and conditioner can help to improve hair texture, reduce frizz and add shine. It also helps to nourish your scalp, promote a healthy scalp environment, strengthen hair follicles, as well as prevent breakage.
2. Are There Any Side Effects of Using Coconut Shampoo and Conditioner?
Generally speaking, no adverse side effects or hair loss have been reported when using coconut shampoo or conditioner. However, those with sensitivities may experience an allergic reaction such as redness or irritation due to ingredients like fragrances in products that contain them.
3. Is It Safe for Color-Treated Hair?
Yes! Coconut-based shampoos don't strip away essential oils from the strands which makes them suitable for all types of hair including color-treated tresses since they do not contain harsh chemicals that could potentially damage the dye molecules found in colored strands over time.
4. Are There Different Levels of Performance Between Regular vs Sulfate-Free Shampoo?
Yes – Sulfate-free formulas tend to be gentler on the hair's surface causing less dryness or stripping than its same base ingredients but without the sulfates. This can lead to more moisturized and healthy-looking hair in the long run.
5. What Ingredients Can I Find in a Natural Coconut Conditioner?
Natural coconut conditioners are a great way to add luster and moisture to your locks without worrying about harsh chemicals. Not only do they include cold-pressed organic coconut oil to nourish and smooth, but hydrolyzed keratin is also used for lasting strength and healing. To top it off, raw sugar blends provide natural cleansing as well as smoothing properties, making this deep conditioning formula the perfect solution for a healthier scalp. An added bonus is the addition of argan oil which helps to repair split ends and boost shine from root to tip.
6. Will Coconut Conditioner Make My Dry Hair Soft?
Coconut conditioner is a great choice for taming dry hair– you'll be sure to feel the difference! It helps to reduce hair breakage and tangling on all hair types, from tight curls to straight hair your hair feels amazing. This natural hair product helps to lock in moisture and seal the hair cuticle, allowing hair strands to stay healthy, hydrated, and softer than before. The best way to use this type of conditioner is to apply it knowing that wet hair is easier to penetrate with healthier oils, so make sure you have freshly washed your hair with shampoo first. Then let the nourishing ingredients do their work! With regular use of coconut conditioner, you'll have smoother, healthier hair with amazing definition and give you those coconut curls.
Final Thoughts About Coconut Shampoo and Conditioner
In conclusion, it can be said that coconut shampoo and conditioner are excellent choices for achieving healthy, strong, and shiny hair. The natural properties of coconut provide nourishing antioxidants and lipids that help strengthen the hair follicles and reduce frizz. Not only does it help to protect the scalp and hair from environmental aggressors such
as pollution and the sun, but it also helps blends smoothing shampoo to improve the texture of the hair. The natural coconut scent is also a bonus! Coconut shampoo and conditioner are easy to use and with regular use, you'll start to notice healthier, shinier hair in no time at
Thank you for reading!
Your friend,
Kelly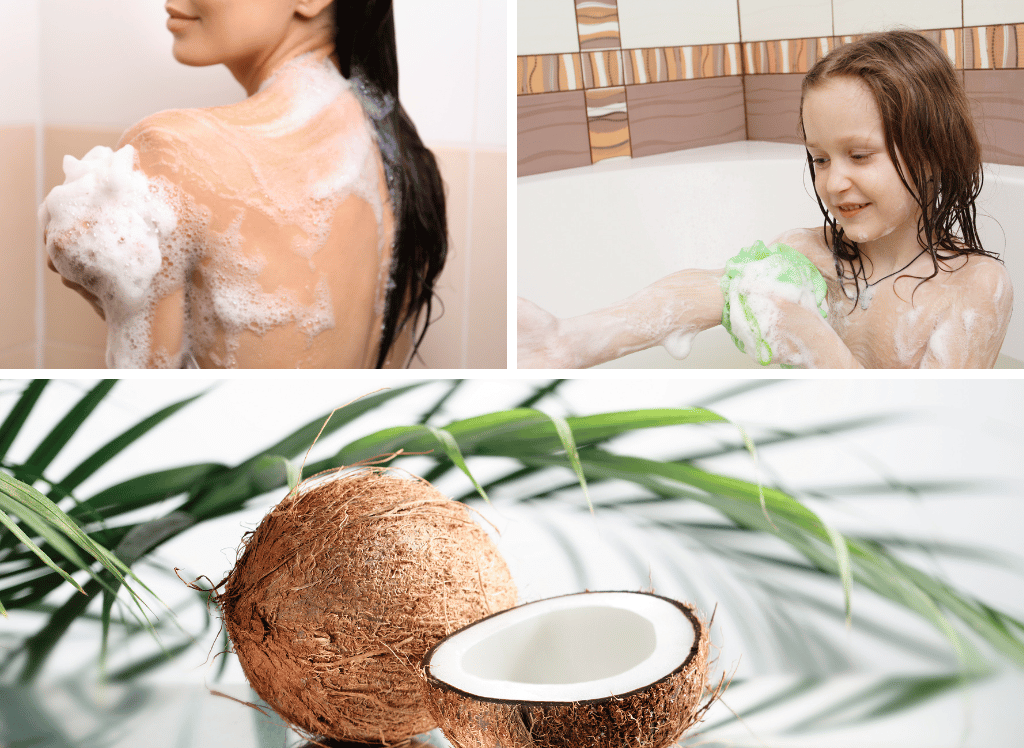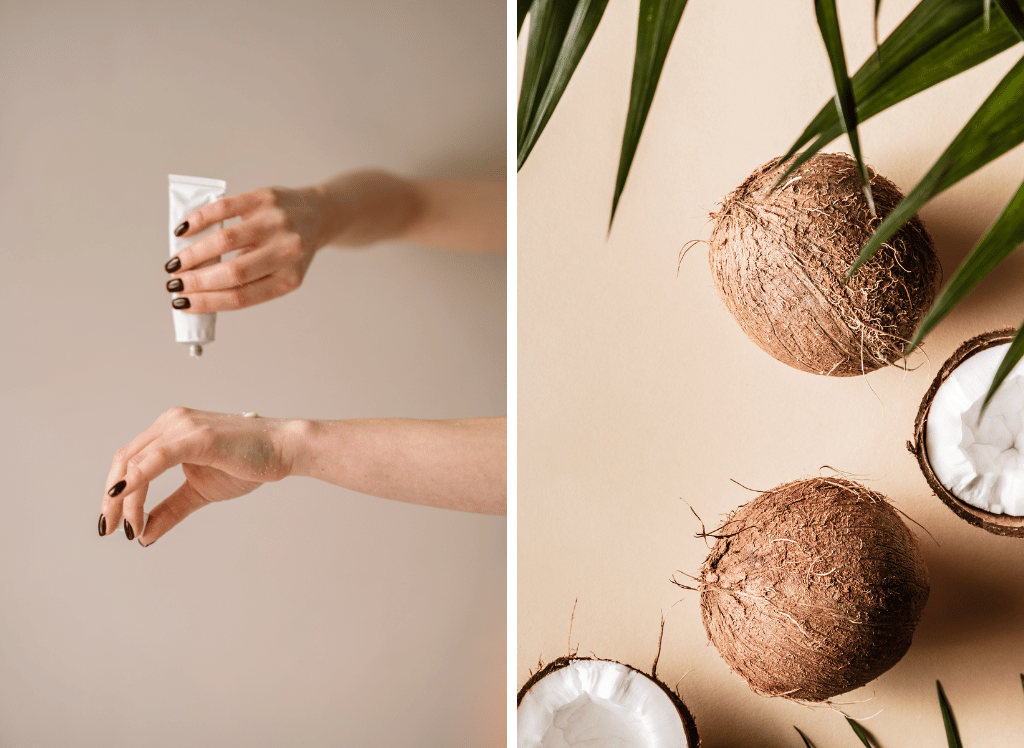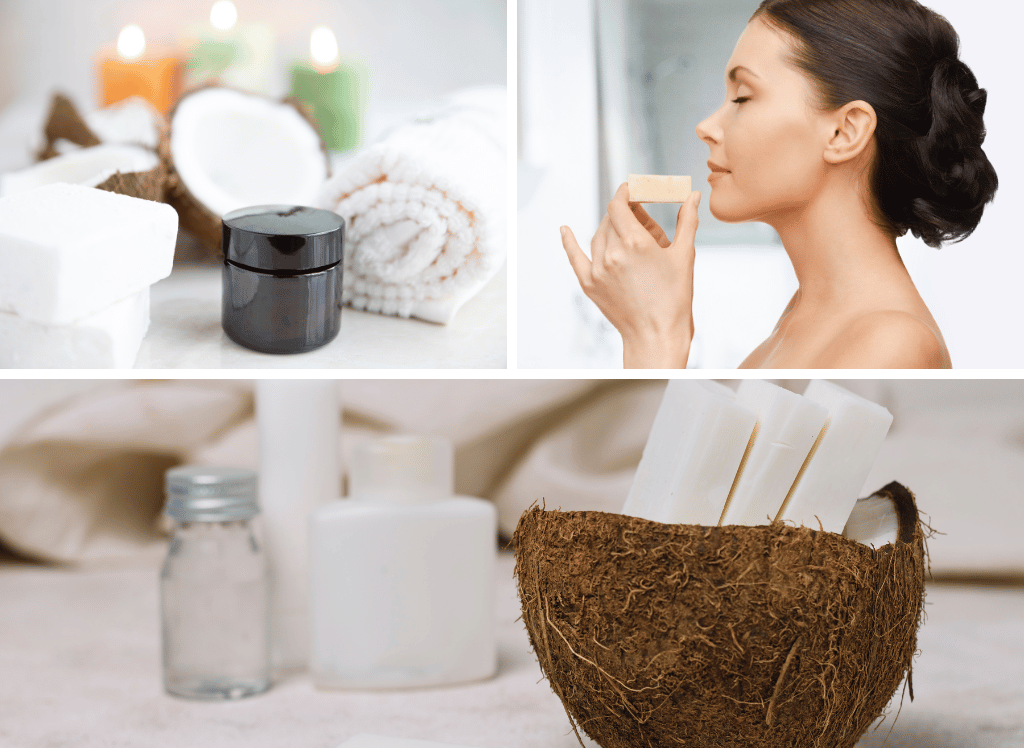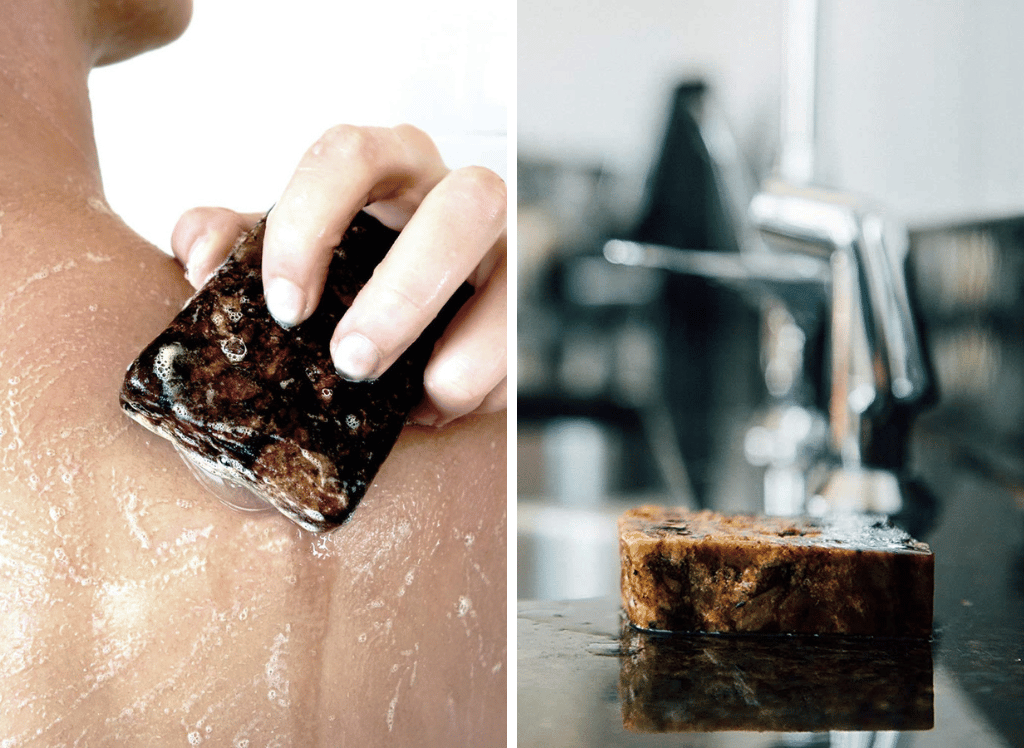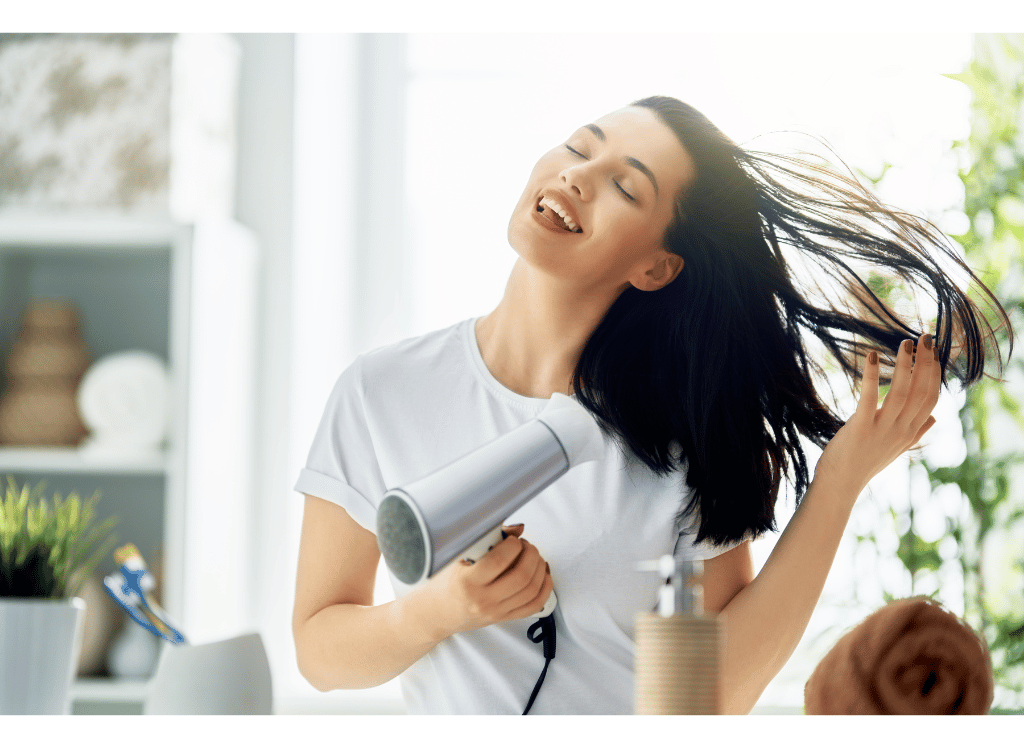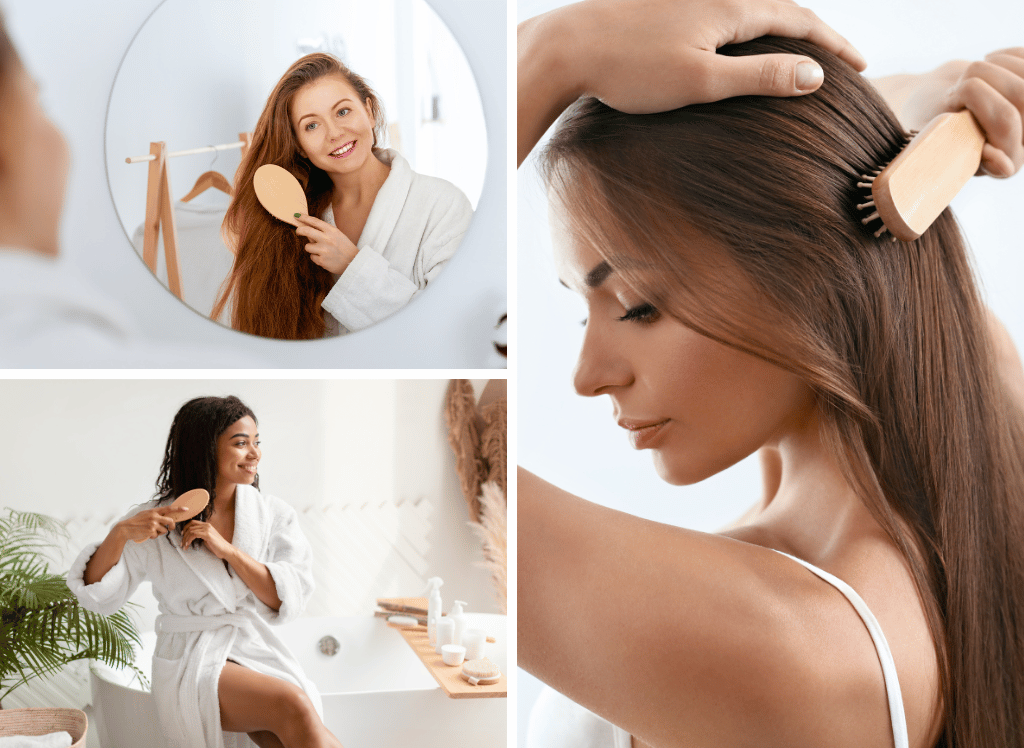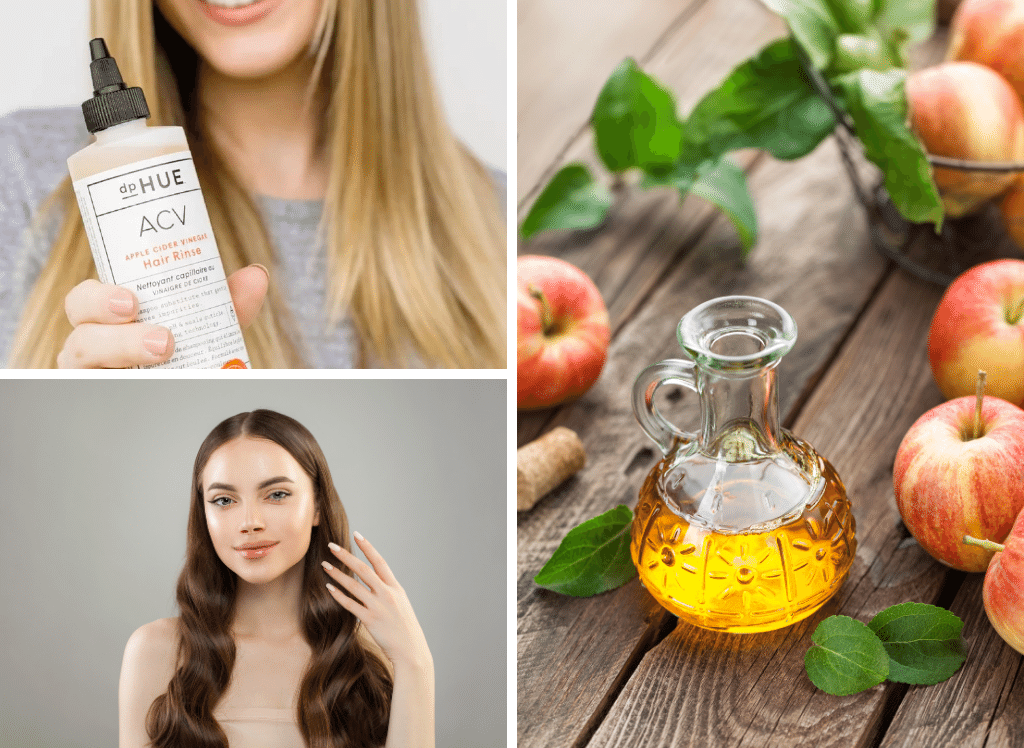 Are you looking for the best products? We've got you covered! Our editors independently selected each item on this list. FactsFanatics may collect a share of sales or other compensation (at no cost to you) from links found within these pages if they choose to buy something (that's how we stay in business); as an Amazon Associate, we earn from qualifying purchases. Reviews have been edited for length and clarity; enjoy finding your next favorite thing today!