Hair dryers for your dog are specially designed tools that help to dry wet fur quickly and efficiently. Not only do they make the process of drying easier and more convenient, but they also ensure that your pup's coat is shiny and healthy without any damage. With the right hair dryer, you can keep your pup looking their best in no time at all!
How FactsFanatics Chooses the Hair Dryers for Your Dog
At FactsFanatics, we understand that finding the right hair dryer for your dog can be an overwhelming task. That's why our team of experts has taken the time to review all of the best options out there and make sure you don't waste your money or time on a product that won't work. We want to ensure you find the perfect solution for your pup's drying needs. With our unbiased and unrivaled reviews, you can trust that we will help you make the best decision for your pooch! Come to us first when looking for a hair dryer for your furry friend—and be sure it's the right one for them. Trust FactsFanatics to find you the perfect product today!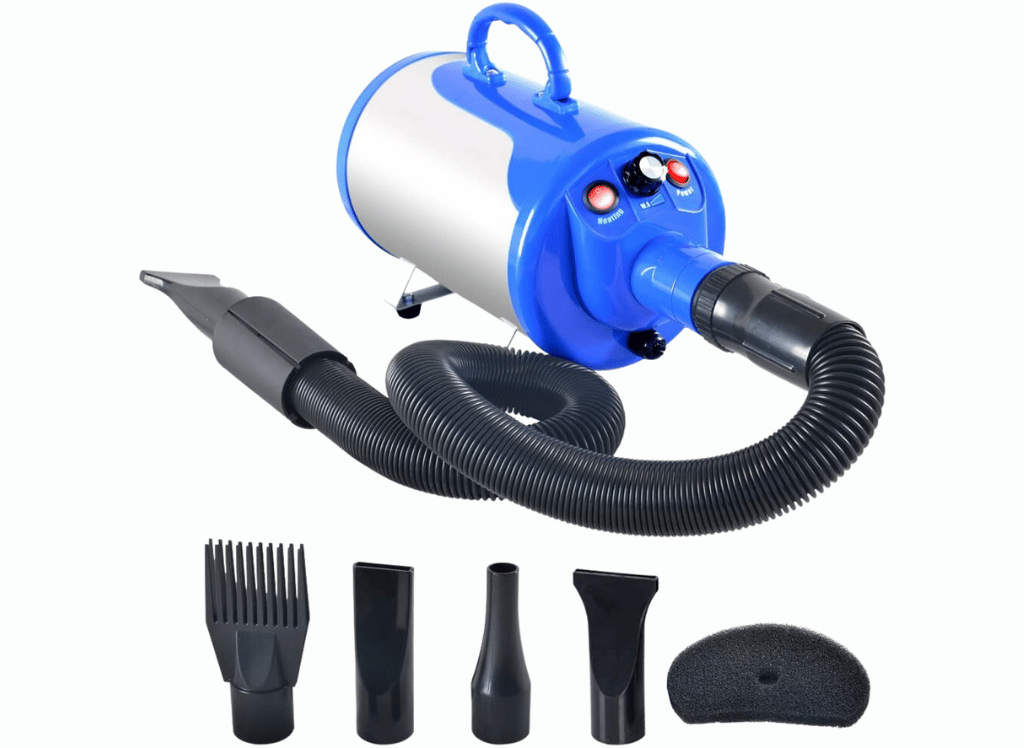 SHELANDY Pet Hair Force Grooming Blower with Heater
Check Price on Amazon
Why We Love It
The SHELANDY popular dog blow dryer is the perfect tool to make sure your four-legged friend looks his best. With a powerful 2400W motor, adjustable airflow of 65MPH to 135MPH, and modern safety features such as internal overheat protectors and high-level flame resistance plastic components, you'll feel secure in the knowledge that your pet is safe and dry. Plus, the SHELANDY high-velocity dryer is suitable for all sizes of pets, from tiny cats to large breeds and even a pet with long hair. Now you can groom your pet in style with the powerful and reliable SHELANDY pet dryer!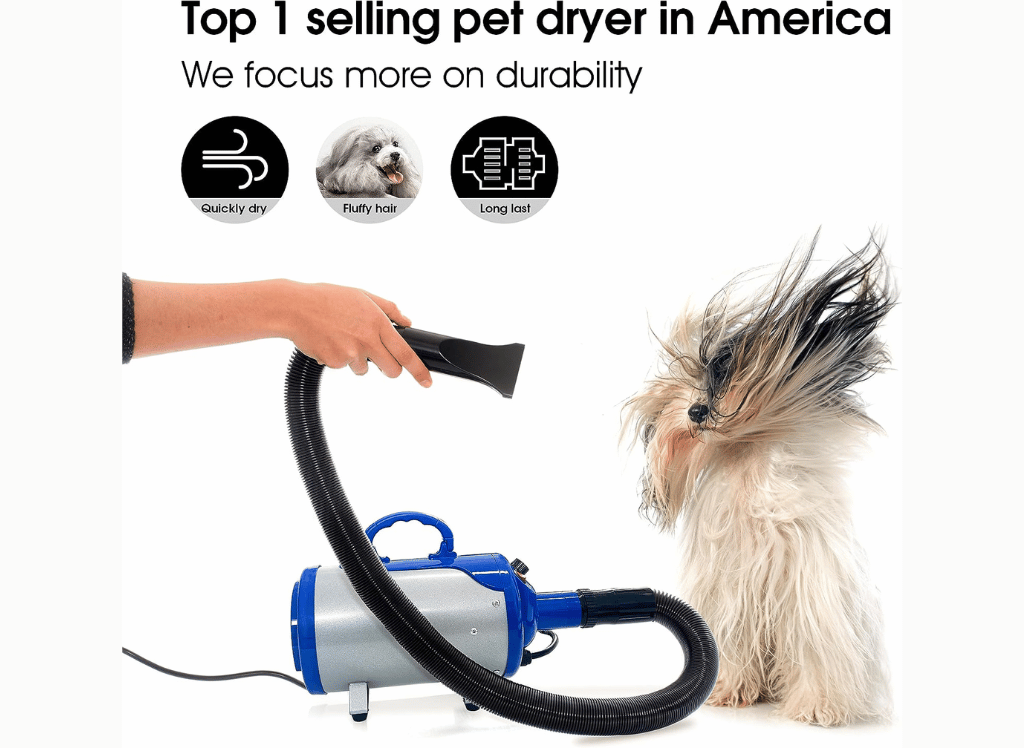 Things to Know
The SHELANDY pet dryer is designed with both convenience and safety in mind. With advanced noise reduction technology, two options for heating temperature, a flexible hose that can be expanded to 73 inches, and four types of nozzles included, you'll find grooming your pet easy and efficient. Plus, the SHELANDY pet dryer comes with a one-year warranty, making it simple to claim free replacements if needed. Get the best pet grooming experience with the SHELANDY pet dryer!
Key Benefits:
Powerful Performance: With a 2400W adjustable motor and an airflow variable of 65MPH-135MPH, the SHELANDY pet dryer ensures speedy drying for pets of all sizes.
Advanced Safety Features: The dryer is equipped with internal overheat protectors on both the motor and heater and all plastic components comply with high-level flame resistance, providing a safe and secure grooming experience.
Noise Reduction Technology: The SHELANDY pet dryer incorporates new tech for the reduction of loud noises, making the grooming experience more comfortable for your pet.
Flexible and Adjustable: The dryer comes with a hose that can be expanded up to 73 inches and four types of nozzles, providing versatility to meet all your pet grooming needs.
Convenient Warranty: The product includes a one-year warranty with a simple claim process, ensuring support and reliability for customers.
Suitable for all Pet Sizes: From tiny cats to large breeds, the SHELANDY pet dryer fits all, making it a one-stop solution for all your pet grooming needs.
---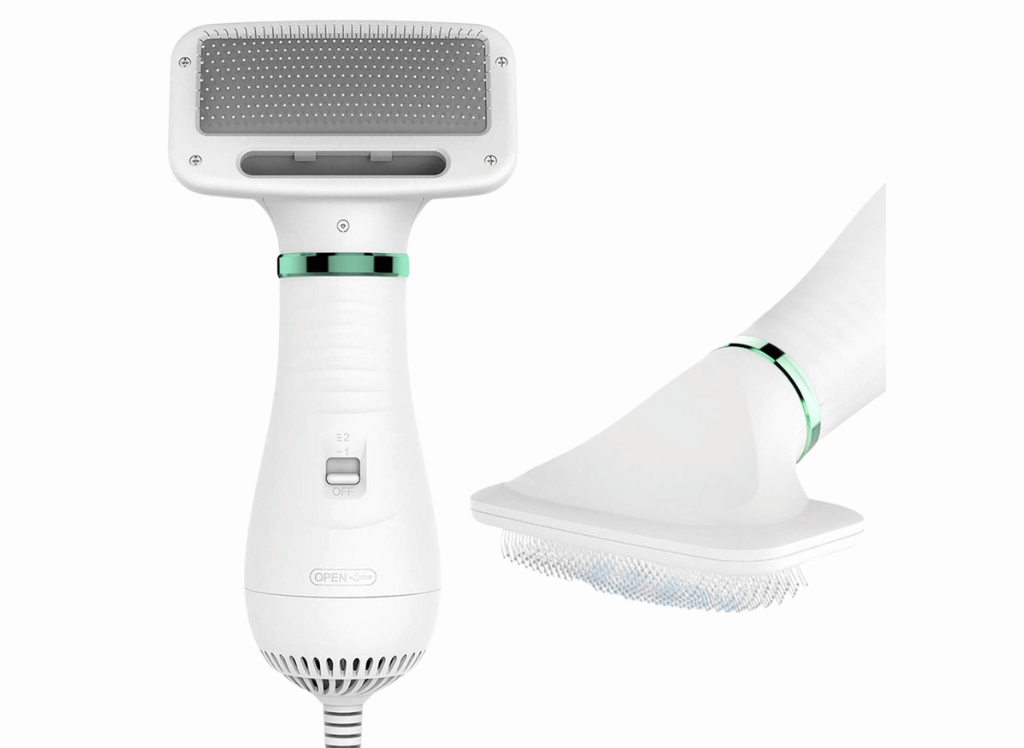 KUUBIA Pet Hair Dryer | Portable and Quiet
Check Price on Amazon
Why We Love It
This KUUBIA multi-functional 2-in-1 pet grooming dryer is the perfect solution for your pet care needs. From a bath, rainy walk, or cold winter's day, it provides warmth and comfort to your dog with its silent motor producing less than 65dB of noise - no need to worry about scaring away your beloved pet! In addition, the motor is energy-efficient with a power consumption of 300W. It also features a slicker brush comprised of stainless steel soft pins with protected tips at a slight angle for efficient grooming without scratching skin. For long and effective grooming sessions, they have also included two replacement brush heads in the package – giving you double the value! Keep your pet's coat healthy and beautiful with this 2-in-1 pet grooming dryer from KUUBIA.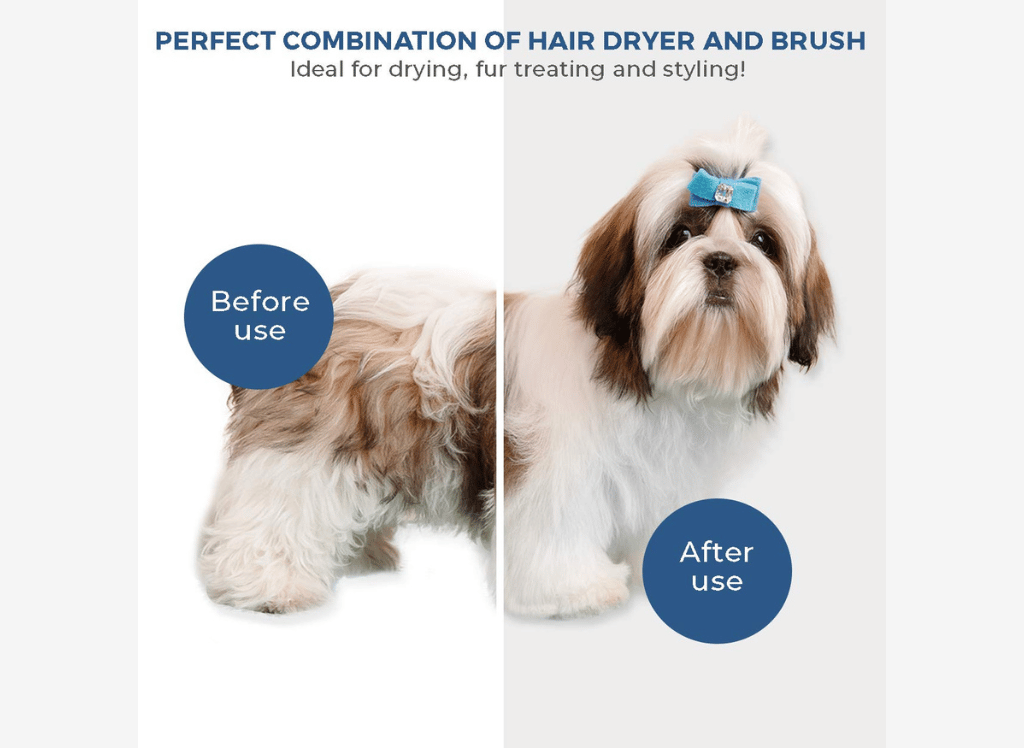 Things to Know
The KUUBIA dog hair dryer is the perfect choice for pet grooming on the go. With its lightweight and ergonomic design, you can easily take it wherever you go to fit your pet's needs. Its adjustable temperature settings provide a wide range of options so that you can tailor the drying time to meet your specific requirements. Plus, the lower temperature setting ensures your pet's safety and comfort by avoiding overheating. With the dog hair dryer, your pet is sure to look its best no matter where you are!
Key Benefits:
2-in-1 Functionality: This device combines the functionalities of a pet dryer and a grooming brush into one handy tool, making pet care more convenient and efficient.
Low Noise Motor: The motor operates at less than 65dB, ensuring your pet remains calm and unbothered during the grooming process.
Energy-Efficient: With a power consumption of only 300W, this pet grooming dryer is as efficient as it is effective.
Safe and Comfortable: The slicker brush is designed with soft, stainless steel pins and protected tips to prevent scratching your pet's skin.
Portable and Adjustable: Lightweight with an ergonomic design, the KUUBIA pet dryer is easy to transport and adjust to meet your specific needs, whether you're at home or on the go.
Added Value: The package includes two replacement brush heads, ensuring prolonged use and added value for customers.
---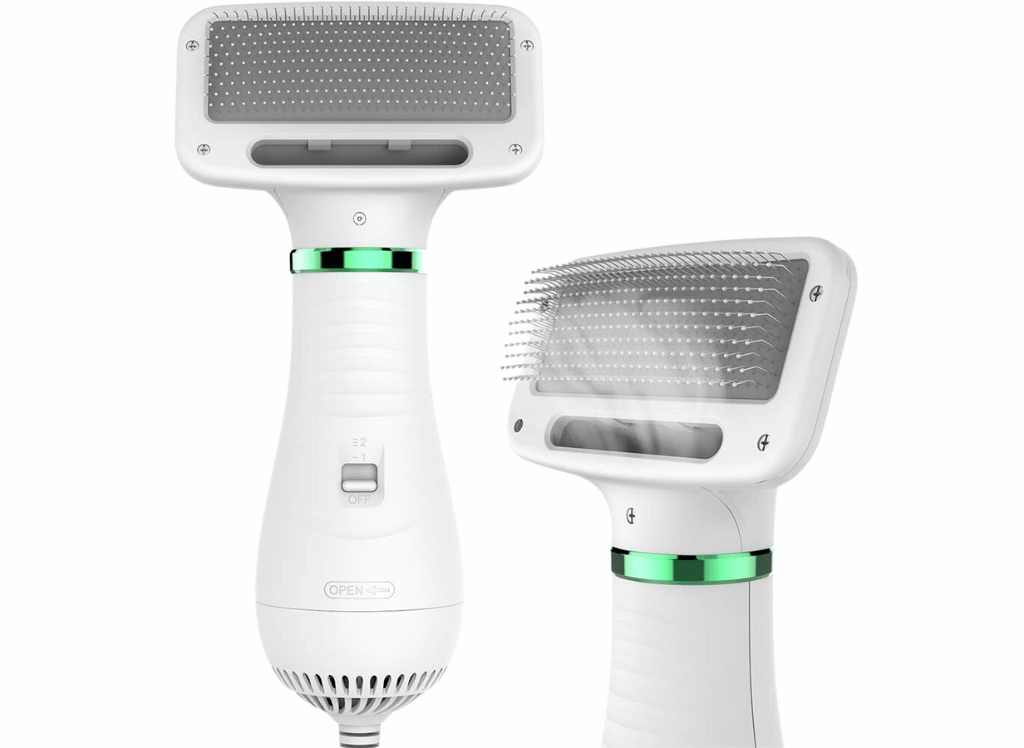 LIVEKEY Pet Hair Dryer - 2 in 1 Pet Grooming
Check Price on Amazon
Why We Love It
This 2 in 1 pet grooming dryer is the perfect choice for busy pet parents! With a combination dog hair dryer and slicker brush, you can quickly and conveniently groom your furry friend after bath time. The temperature control settings allow you to find just the right balance that works best for your pet while saving energy in the process. Not only does this dryer make grooming easier, but it's also great for pet parents whose dogs scare easily since the low setting is warm and comfortable. To maximize your time with your pup and transform bath time into playtime with this 2 in 1 pet grooming dryer!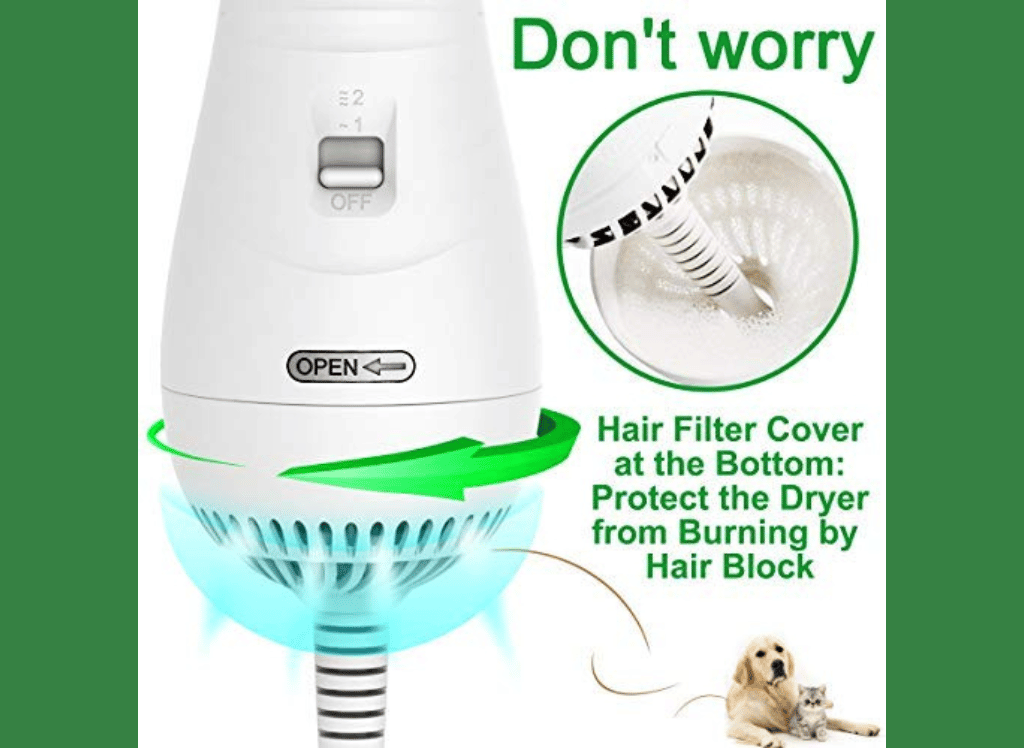 Things to Know
This professional pet hair dryer is perfect for keeping your pet's fur healthy and beautiful. It has an ergonomic handle, a lightweight design, and a long power cord for maximum convenience. The stainless steel pins have safety tips to ensure there will be no scratching or damage to your pet's skin while combing its hair, as well as providing a luxurious massage. The hair filter cover at the bottom also makes it easy to clean up afterward. This pet grooming dryer is compact and portable, weighing only 13 ounces and providing great flexibility for users on the go.  It's an essential tool to have for any pet owner who wants to keep their furry friend looking its best.
Key Benefits:
Efficient 2-in-1 Design: This pet grooming dryer combines a hair dryer and a slicker brush, allowing for easy and efficient grooming after bath time.
Adjustable Temperature Settings: High and low-temperature settings give flexibility to choose the right heat for your pet's comfort and safety, while also being energy efficient.
Ergonomic and Lightweight: The ergonomic handle and lightweight design make this tool easy to use, reducing strain during grooming sessions.
Safe for Your Pet: Equipped with stainless steel pins with safety tips, this dryer guarantees no scratching or damage to your pet's skin and even offers a massage-like experience.
Easy to Clean: The hair filter cover at the bottom of the unit ensures easy clean-up after each grooming session.
Portable: Weighing just 13 ounces, it's compact and easy to carry, providing great flexibility for on-the-go users.
Enhances Pet's Fur: Regular use of this grooming dryer will keep your pet's fur healthy and beautiful.
---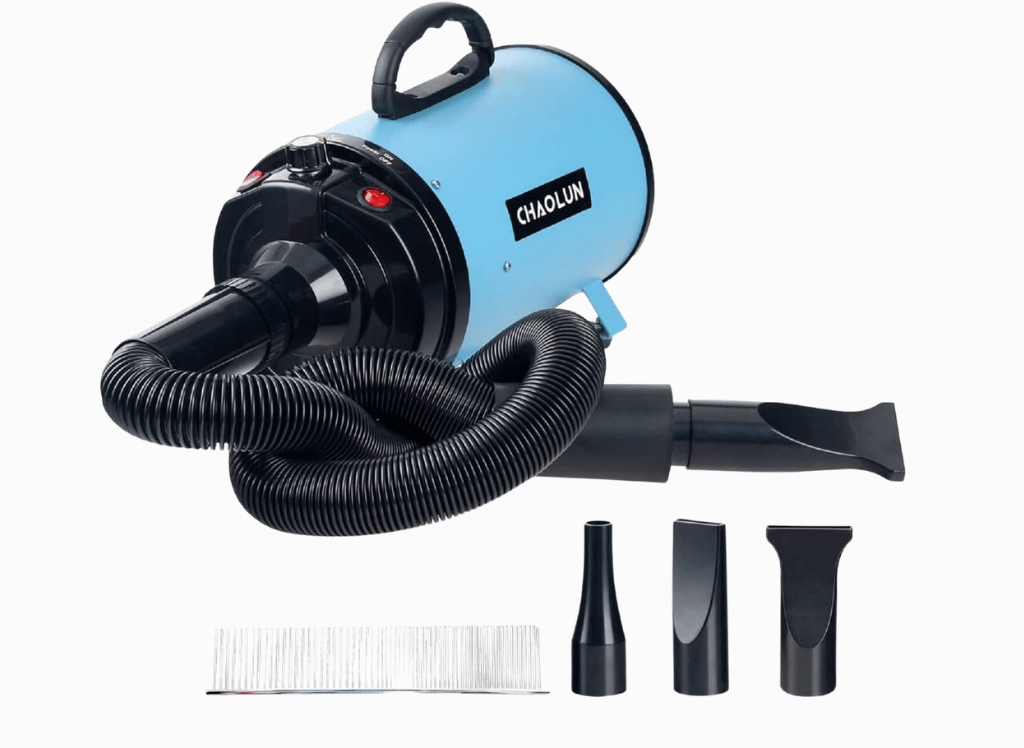 CHAOLUN Dog Dryer - High-Velocity Professional Pet Grooming
Check Price on Amazon
Why We Love It
The CHAOLUN professional-grade dryer is the perfect solution to quickly and effectively dry your pet's fur. Featuring a powerful and stable motor, you can adjust the speed for different sizes of pets, giving them a thorough dry after bathing or grooming. With its heating function, you can choose the temperature range from 95℉-131℉ to make sure your pet is comfortable and warm throughout the entire drying process. With CHAOLUN professional groomers hair dryers, you can keep your pet's coat looking clean and healthy! Take the hassle out of grooming and give your beloved pet a salon-style treatment anytime with CHAOLUN Professional Pet Hair Dryer!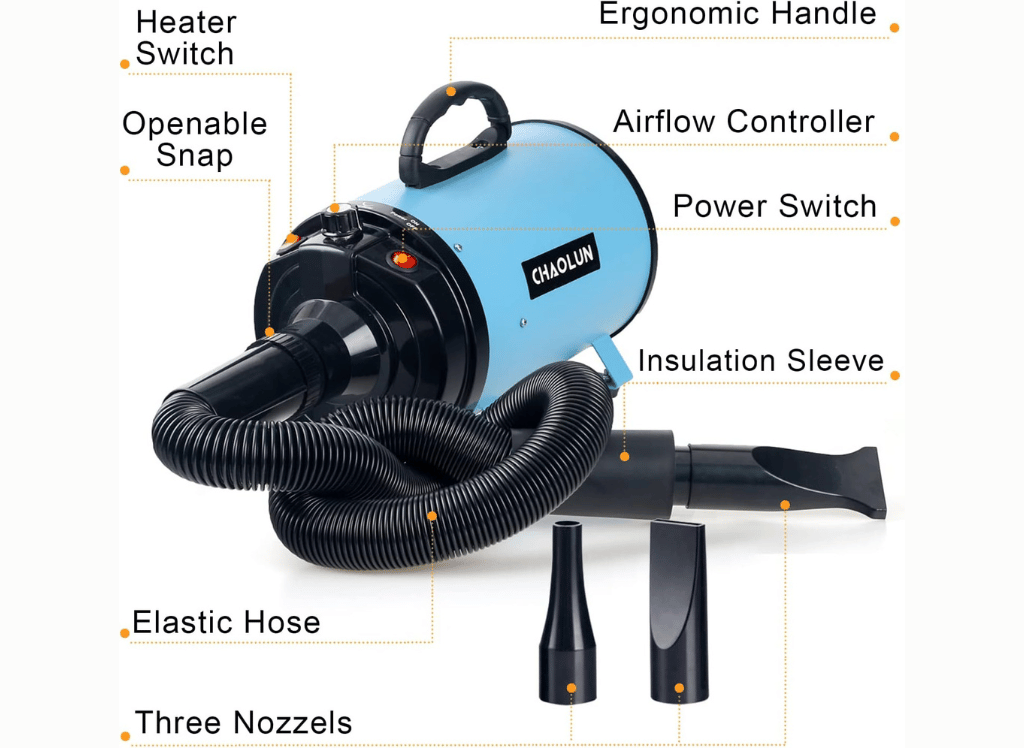 Things to Know
The dog hair dryer comes equipped with a thickened metal case that effectively reduces noise. Additionally, it has 3 different types of nozzles and a flexible hose that can be expanded up to 90.6 inches for optimal convenience. This allows you to easily reach all areas while grooming your pet, making the task much easier and efficient. With its durable construction and strong airflow, this dryer is an ideal choice for pet owners.  Furthermore, it provides a safe and efficient way to help your furry friend look their best!  With its powerful motor and adjustable speed setting, you can easily customize the drying time to make sure your beloved pet is always looking their absolute best.  Save time and keep your pup looking great with this incredible hair dryer!
Key Benefits:
Powerful and stable motor: Enables you to adjust the drying speed according to the size of your pet, ensuring a quick and thorough drying experience.
Adjustable temperature range: Allows you to select the right temperature (95℉-131℉) for your pet, ensuring a comfortable and warm drying process.
Thickened metal case: Effectively reduces the noise produced during operation, making it a quiet and pet-friendly appliance.
Three different types of nozzles: ProvideThis can versatility and precision, allowing you to reach all areas while grooming your pet.
Expandable flexible hose: This can stretch up to 90.6 inches, providing optimal reach and convenience during grooming and drying tasks.
Durable construction: Ensures long-lasting performance and reliability, making it an ideal choice for pet owners.
Multiple air speeds: Allows you to customize the drying time for optimal results, keeping your pet looking its absolute best.
---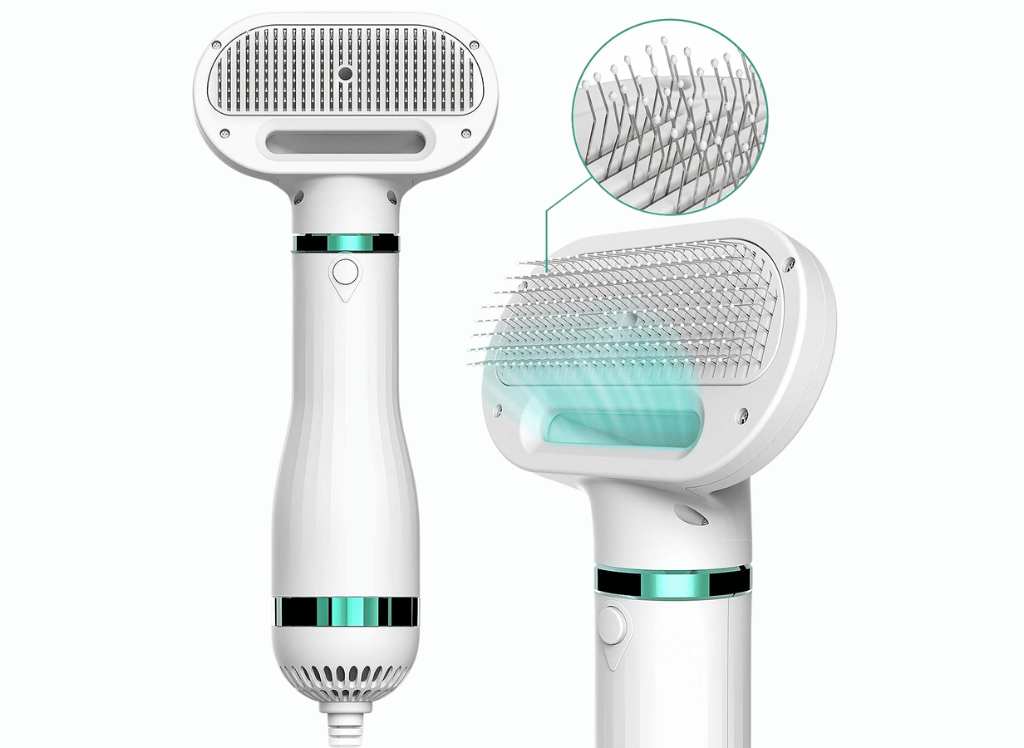 iPettie Pet Hair Dryer 2 with Slicker Brush
Check Price on Amazon
Why We Love It
The iPettie pet dryer is designed to make for an easier grooming experience. The innovative 2 in 1 design helps your pet look and feel their best while drying, brushing, and removing matted hair and tangles with ease. The brush is made of 304 stainless steel, featuring soft pins that can reach deep into the undercoat without causing any pain or distress to your pet. In addition, the one-button hair removal design makes it easy to remove shed hair quickly and efficiently. With iPettie, you get an all-in-one grooming solution for your beloved pet that provides optimal comfort and a professional finish.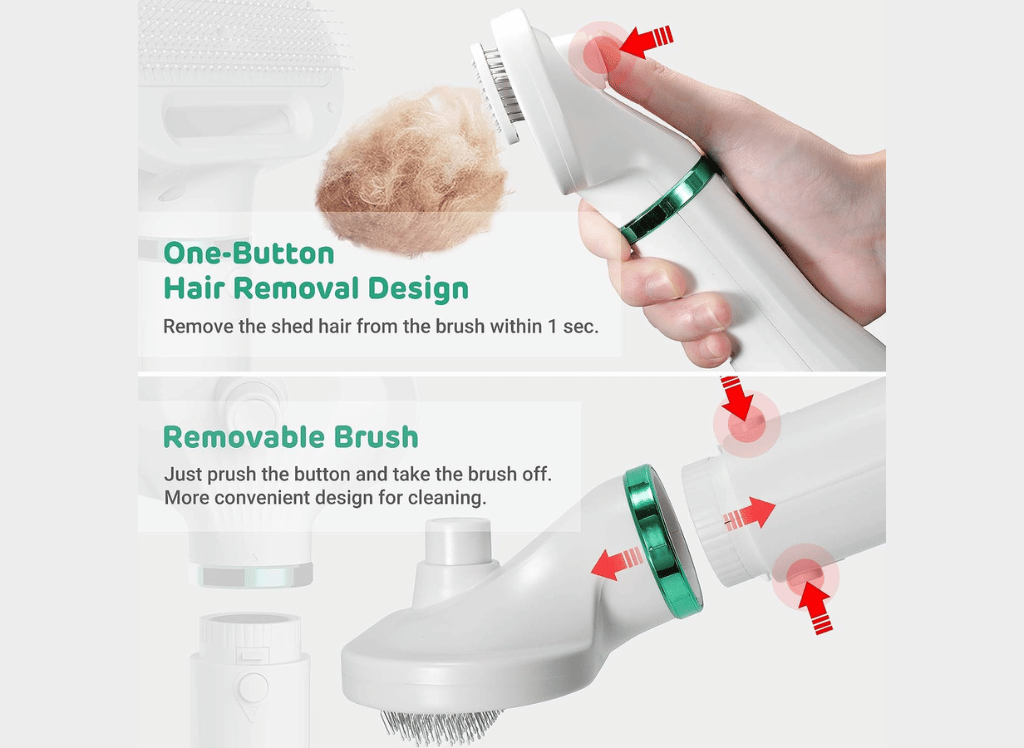 Things to Know
This dog hair dryer is designed with your pet's safety in mind. Featuring 3 heat settings, you can easily adjust the temperature between 100°F and 140°F (40 °C - 60 °C) to ensure that your beloved pup won't get burned while drying their fur. Additionally, its 100% safety guarantee allows for peace of mind as the hairdryer will automatically power off when it's overheating. Its slim handle and lightweight design make it easy to hold and use, while the removable filter prevents lint buildup ensuring that your hair dryer runs smoothly for a longer lifetime. With this hairdryer, you can easily groom your pet in a safe and effective way!
Key Benefits:
Efficient 2-in-1 Design: The iPettie pet dryer not only dries your pet's hair but also straightens and detangles it, making the grooming process effortless and time-saving.
Gentle for Pets: The soft, flexible pins of the stainless steel brush reach deep into the pet's undercoat without causing any discomfort, ensuring a stress-free grooming experience for your pet.
Easy Maintenance: The one-button hair removal design allows for quick and easy cleaning of the brush, enhancing the device's durability.
Customizable Heat Settings: With three adjustable heat settings, you can select the most comfortable temperature for your pet, avoiding any risk of burns.
Safety Features: The hairdryer's auto-off feature for overheating and double-wall design make it safe for use, offering peace of mind for pet owners.
Convenient and Portable: The slim handle design, lightweight, and compact size make the iPettie pet dryer easy to handle and perfect for use wherever you go.
Longer Motor Life: The removable filter prevents lint buildup, extending the life of the motor and ensuring reliable performance for years to come.
---
Hair Dryer for Dogs FAQ:
How Do I Know if a Dog Hair Dryer Is the Right Tool for My Pet?
A dog hair dryer can be an effective tool to quickly and thoroughly dry your pet's coat, depending on their breed and specific needs. To determine if a dog hair dryer is appropriate for your pup, consider their coat type - is it thick or thin? Long or short? Also, consider their behavior - do they tend to be active and easily distracted, or more docile and content to stay still for a while? Based on this information, you can decide if a forced-air hair dryer is the right tool for your pet.
What Types of Dog Hair Dryers Are Available?
There are many different types of dog hair dryers available, ranging in size and power. A hand-held unit is a great option for small breeds or ones with thin coats, as it can be used to quickly dry the coat without blowing too hard. Higher-powered units are better suited for larger dogs with thicker coats that require more time and effort to dry. Additionally, some hair dryers come with attachments such as nozzles that can be used to focus the airflow or control it for more precise drying or straightening coats.
How Do I Safely Use a Dog Hair Dryer?
When using a dog hair dryer, make sure to read and follow all instructions that come with your product carefully. Begin at a low setting and gradually increase the power as needed. Hold the dryer about 6-12 inches away from your pet's coat so that they don't feel uncomfortable or scared. Be careful not to overheat their skin, and be sure to stop for breaks if they seem distressed.
What Other Grooming Needs Can I Use a Hair Dryer For?
A dog hair dryer can be used for more than just drying your pet's coat. It can also help to detangle mats and remove excess shedding fur. Additionally, you can use a nozzle attachment to blow away dirt and debris from your pup's fur before giving them a bath.
Are There Any Tips or Tricks for Using a Dog Hair Dryer?
Yes! One important tip is to make sure the room or area you grooming in is well-ventilated. Also, use a wide-toothed comb before and during drying to help evenly distribute the heat and reduce tangles. Finally, keep an eye out for any signs of discomfort or distress from your pet - if they seem agitated or uncomfortable, stop and take a break.
Why Should I Not Use a Human Hair Dryer on My Dog?
As a loving pet owner, you want to make sure that your furry friend stays healthy and comfortable at all times. But when it comes to drying your dog after a bath, using a human hair dryer may not be the best idea. A human blow dryer is not designed to handle the thick and coarse hair of dogs, and it may cause damage to your pet's coat. Moreover, the noise and heat from the dryer can be stressful and potentially harmful to your dog's sensitive ears and skin. Instead, consider towel drying your dog or investing in a specialized dog hair dryer, which is designed to provide gentle and efficient drying without any negative side effects. Your furry friend will thank you for it!
Final Thoughts About hair Dryers for dogs
A hairdryer for your dog is a great asset to have in your toolkit as a pet owner. Not only will it save you time and stress when grooming your pup, but it also helps keep their coat healthy and free from tangles. From drying out wet fur quickly, to even helping with de-shedding, the right dog hair dryer can make all the difference in keeping your pup looking and feeling their best. So, if you're ready to invest in a tool that will make life easier for both of you, then check out the options available on the market today and find one that fits your needs!
Thank you for reading!
Your friend,
Kelly
If you are interested in entertainment while you shop, you can get a 30-day free trial of Amazon Prime Music or listen to your favorite audiobook with Two Free Audiobooks from Audible Plus! Additionally, if you want to take advantage of 2-day shipping, get a try Amazon Family 30-day Trial.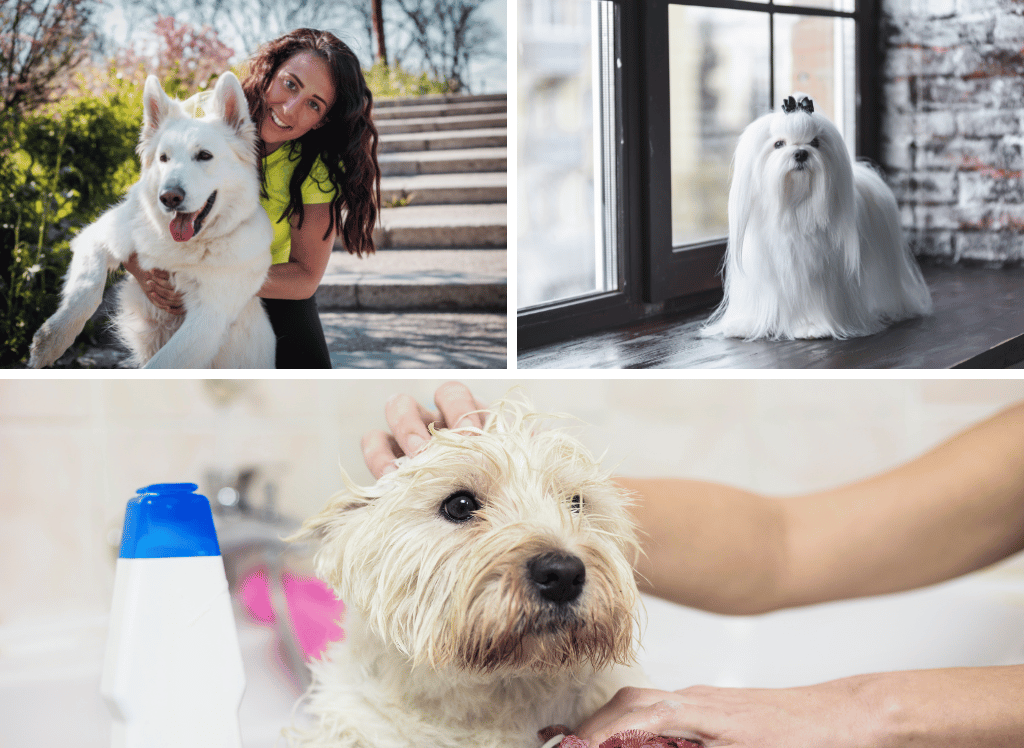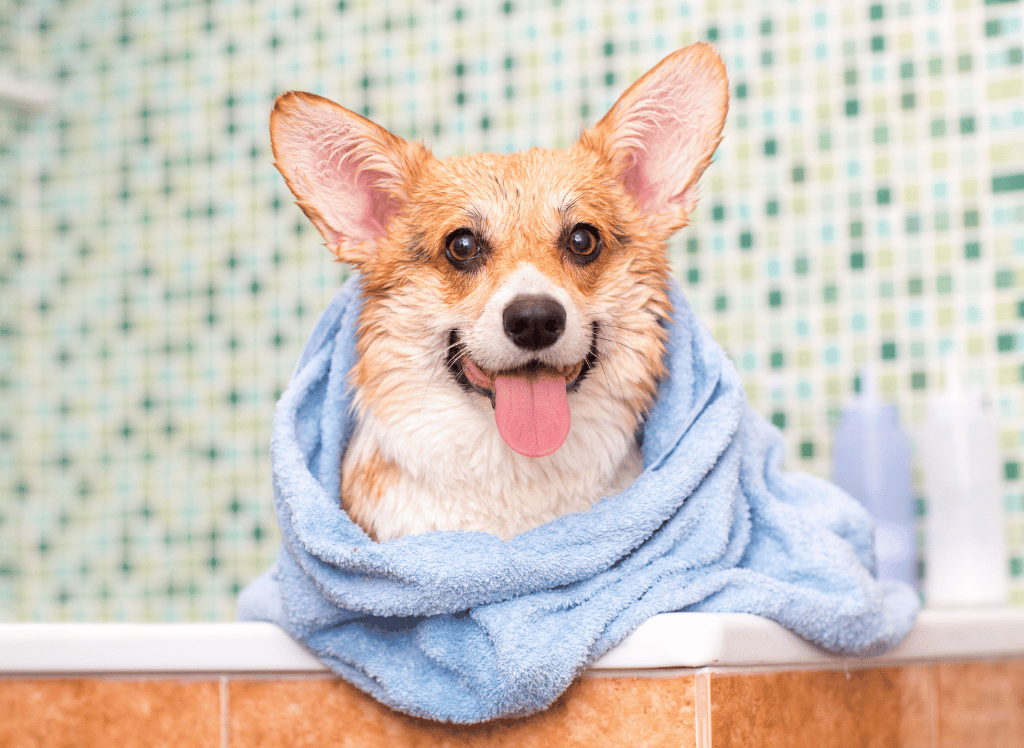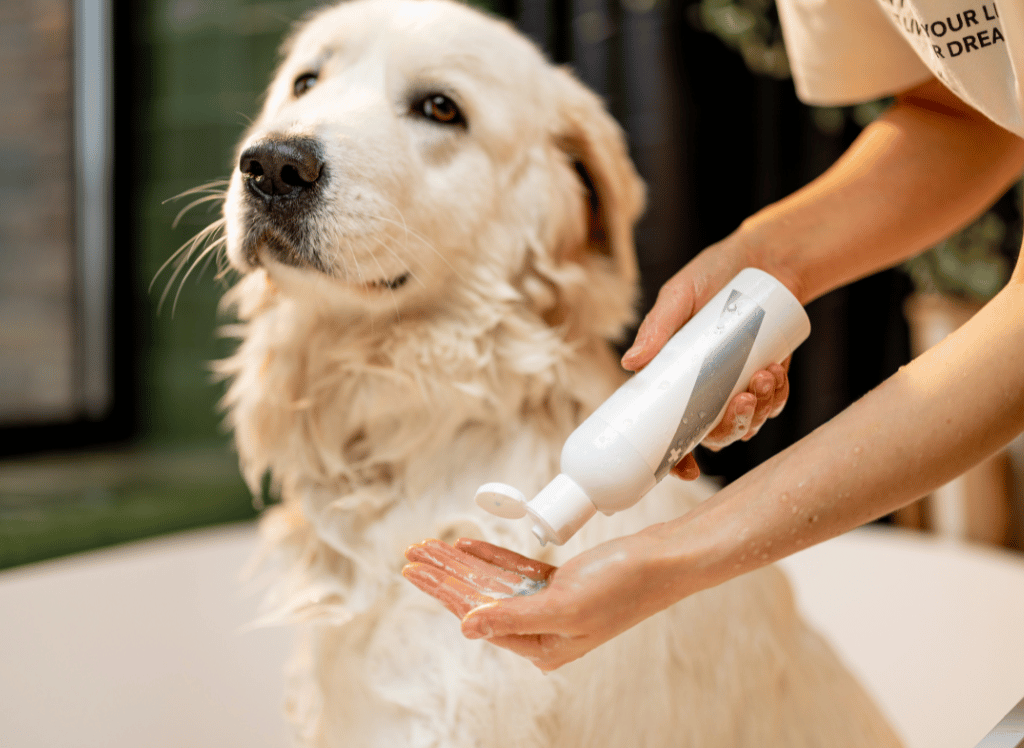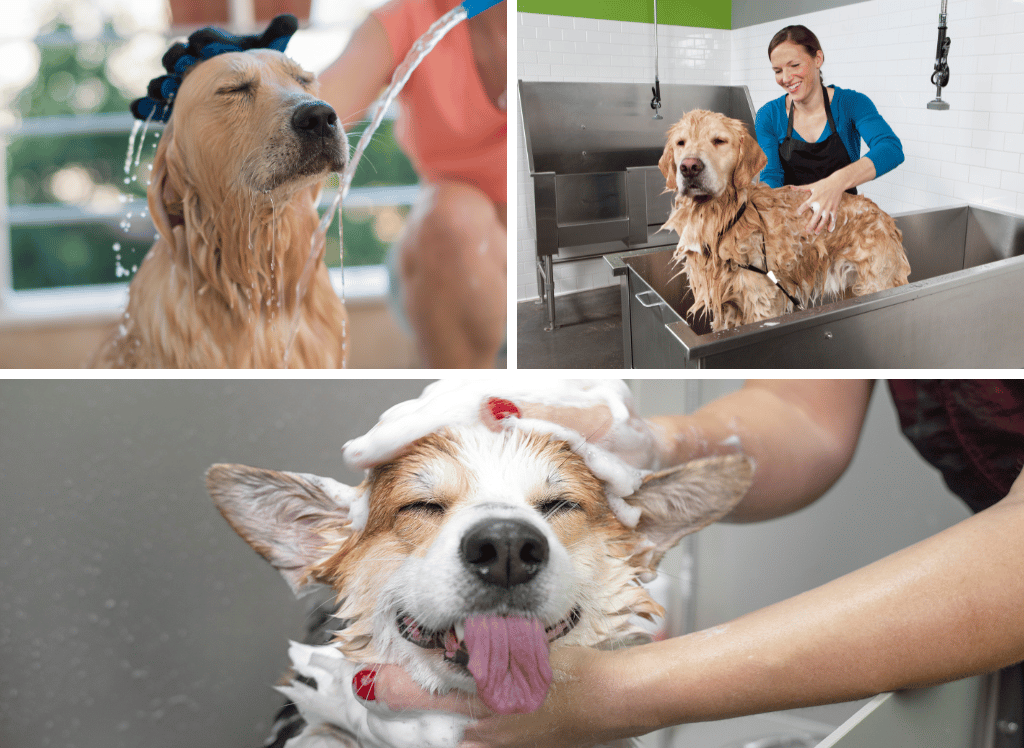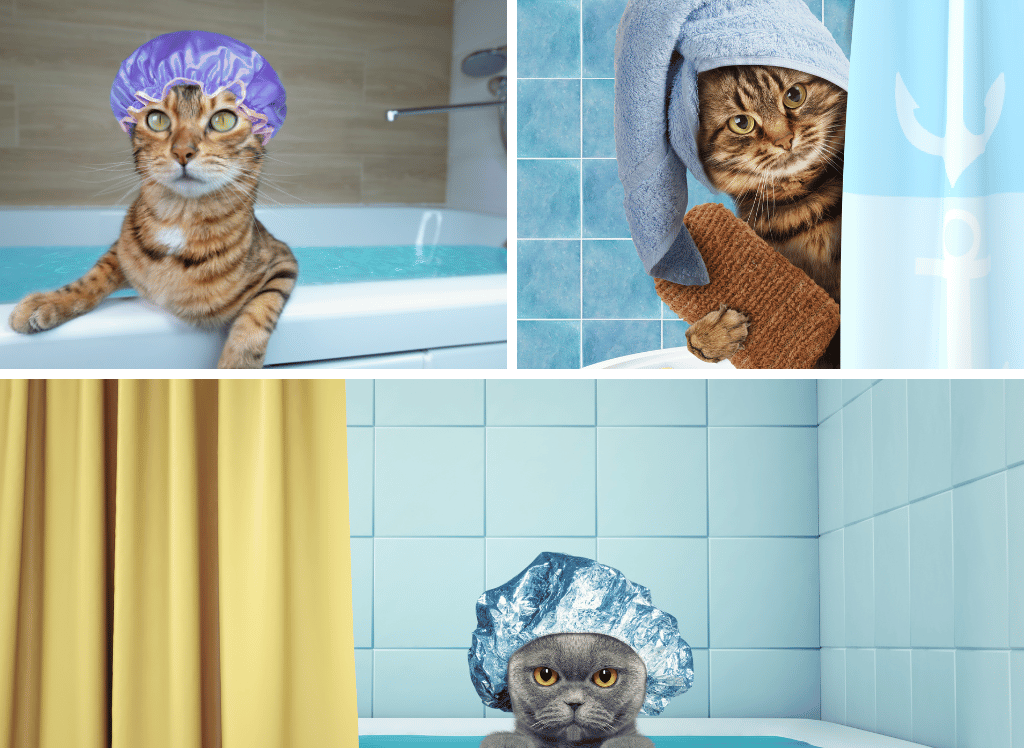 Are you looking for the best products? We've got you covered! Our editors independently selected each item on this list. FactsFanatics may collect a share of sales or other compensation (at no cost to you) from links found within these pages if they choose to buy something (that's how we stay in business); as an Amazon Associate, we earn from qualifying purchases. Reviews have been edited for length and clarity; enjoy finding your next favorite thing today!