Dog owners know that safety should always come first when it comes to their furry friends. Whether it's on a boat or at the beach, dogs need to have the proper gear to keep them safe. That's where life jackets for dogs come in handy. These jackets are designed to keep your pet afloat should they fall into the water. They come in various sizes and styles, ensuring that there is a suitable option for all dog breeds and personalities. Investing in a life jacket for your dog is a smart choice, as it can prevent accidents and keep your beloved pet safe while enjoying water activities. So, if you're planning a day by the water with your furry companion, don't forget to pack their life jacket!
How FactsFanatics Chooses These Life Jackets for Your Dog
With so many different dog life jackets on the market, it can be hard to know which one is best for your pup.
You don't want to waste time researching and testing each product only to find out that it doesn't work or meet your needs. And you certainly don't want to waste money on a product that won't do the job.
FactsFanatics has done all of the research for you! Our expert reviewers have tested and reviewed the best products on the market so you can make an informed decision quickly and easily. We've taken all of the guesswork out of finding the perfect dog life jacket for your furry friend!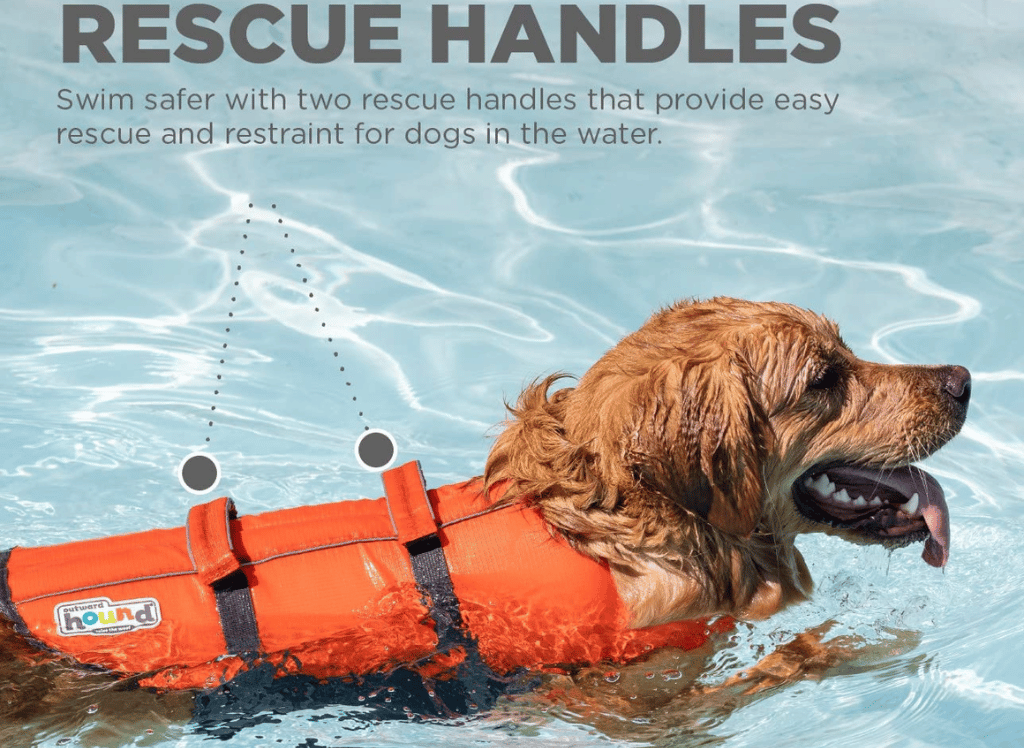 Outward Hound Granby Splash Dog Life Jacket
Check Price
Why We Love It
Dogs are known for their wide variety of shapes and sizes, which can make finding the right sizing for certain products a challenge. Fortunately, when it comes to water safety, the Outward Hound Granby Splash life jacket has you covered. Available in sizes ranging from XS to XL, this jacket takes into account your dog's girth measurement to ensure the perfect fit. Additionally, the bright colors and reflective accents on this jacket allow you to easily spot your furry friend while they're in the water. With adjustable straps and a front neck float to keep your dog's head above the water, this life jacket is perfect for both novices and experienced swimmers alike. Remember to size up if your dog's girth measurement falls on the higher end of a size. Get ready to make a splash while keeping your furry friend safe and sound.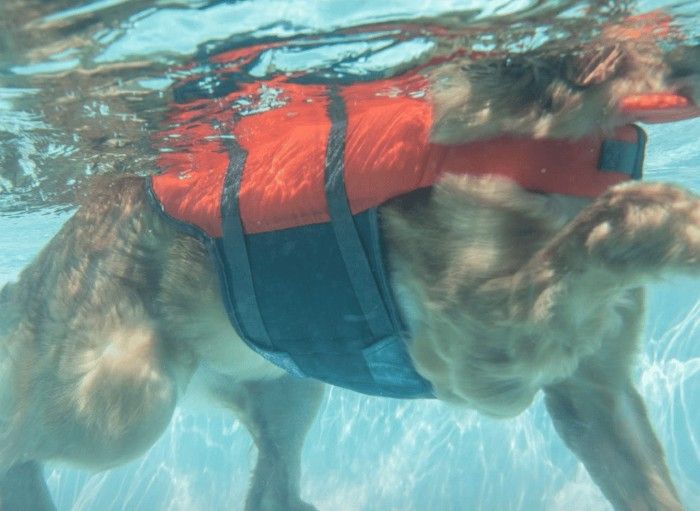 Things to Know
Made with ripstop material, this life jacket provides maximum buoyancy in the water while allowing your dog to move freely on land. With adjustable straps and side-release buckles, you'll always have a secure fit for your pup. The neoprene belly band supports your dog's chest and belly while they enjoy their time in the water. Plus, the dual grab handles make it easy to lift your pup out of the water and provide easy access. Remember to stay cautious while playing in the water with your pet and always supervise them. If you notice any damage, replace the life jacket.
Additional Info
Sizes: XS, Small, Medium, Large, XL
Colors: Blue, Camo, Green, Orange, Pink, Red, Yellow
Special Feature: Ripstop Material, Dual Grab Handles
---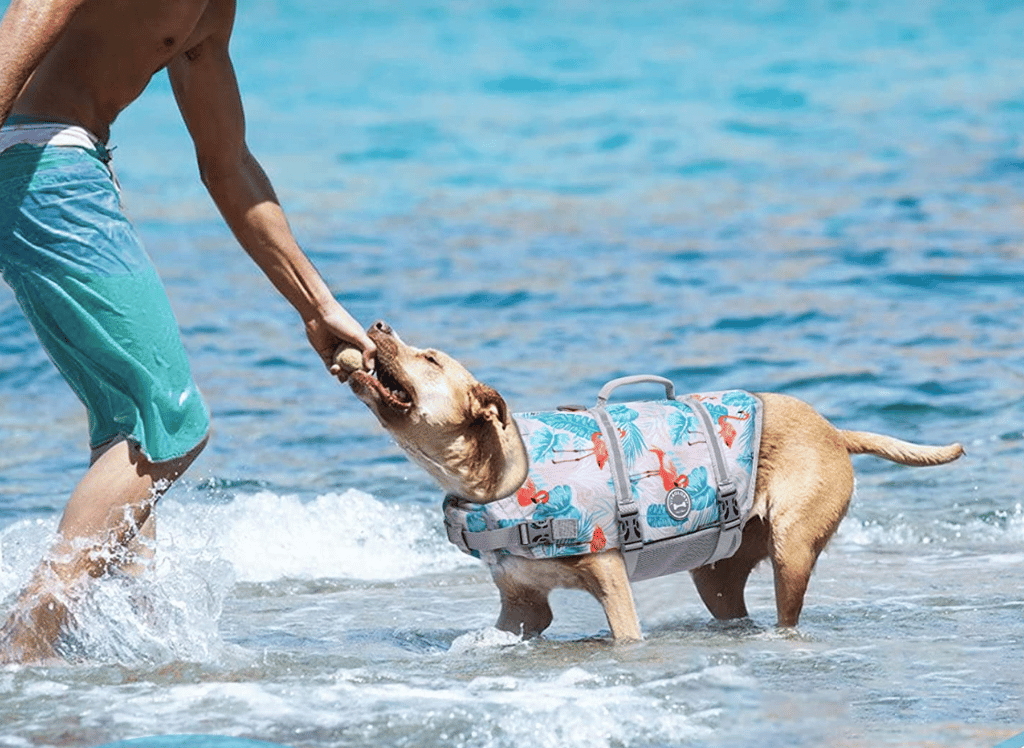 VIVAGLORY Dog Life Jacket
Check Price
Why We Love It
It's important to remember that not all dogs are the same size despite their weight. That's why it's crucial to measure your dog's ribcage at the deepest part before choosing the appropriate size for them. Don't assume that other brands' standard sizes or weight charts apply to your dog. If your furry friend falls between sizes, it's best to opt for the larger size. Safety should be your top priority, and that's why the Vivaglory dog PFD is designed with extra padding to ensure buoyancy in the water without restricting your dog's movement. Moreover, the fastening system around the belly and neck ensures the flotation vest is securely on your dog. The durable grab handle of the life preserver also makes it easy to retrieve your furry friend during emergencies. The D-ring on the vest is for leash attachment. With adjustable straps and quick-release buckles, you can guarantee an excellent fit and convenience for your dog.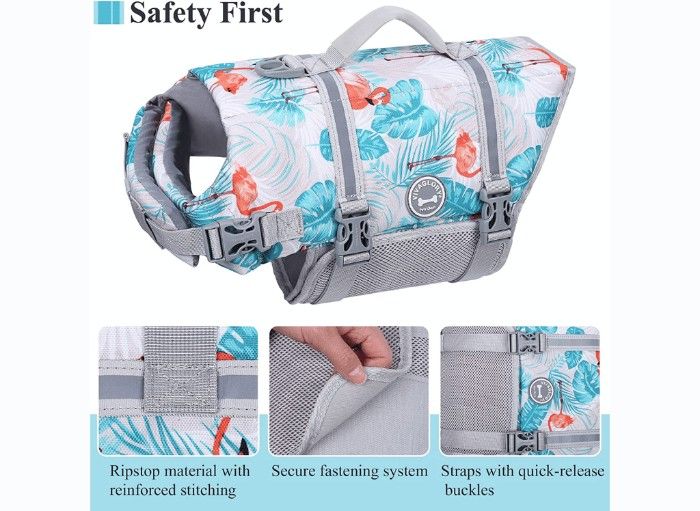 Things to Know
With bright colors and reflective trims, this vest enhances your dog's visibility both in and out of the water. This feature allows you to quickly identify your dog in case of an emergency. Not only does this vest provide visibility, but it also gives your dog an added layer of safety and endurance in the water. However, it's crucial to remember to never leave your dog unattended while wearing the vest. Additionally, it's recommended to give your dog time to get used to wearing the vest before heading into the water.
Additional Info
Sizes: XXS, XS, Small, Medium, Large, XL
Colors: Blue, Green, Orange, Pink, Red, Yellow, Camo Blue, Camo Pink, Leaves Blue, Multi-Color
Special Feature: Padded, Reflective, Adjustable
---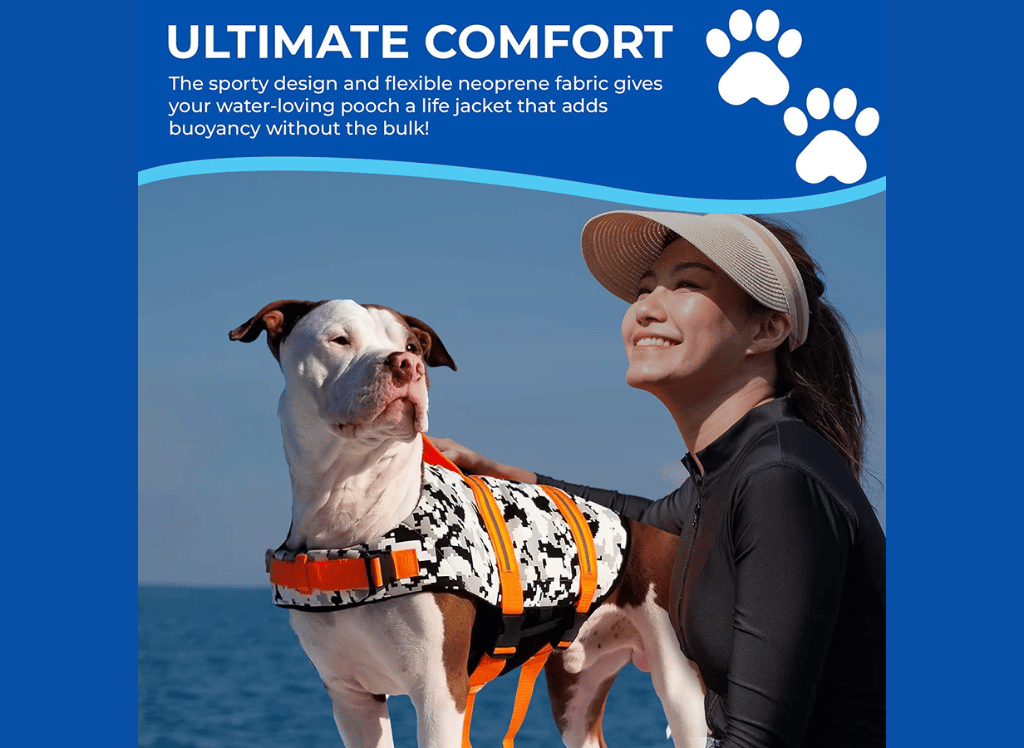 Paws Aboard Dog Life Jacket
Check Price
Why We Love It
If you're planning on spending time on the water with your furry friend, you want to make sure they're safe and comfortable. Paws Aboard life jackets for dogs offer the peace of mind you need during any water activity. Not only are they constructed with buoyancy to keep your pup afloat, but they also come equipped with adjustable straps for a snug fit. We understand that dogs come in all shapes and sizes, which is why Paws Aboard life jackets are available in multiple sizes - from XX-small to X-large. And with their new reflective strips, you can ensure maximum visibility for your pup, day or night. Whether you're boating, paddleboarding, or just having fun in the water, Paws Aboard life jackets will keep your canine companion cozy and secure.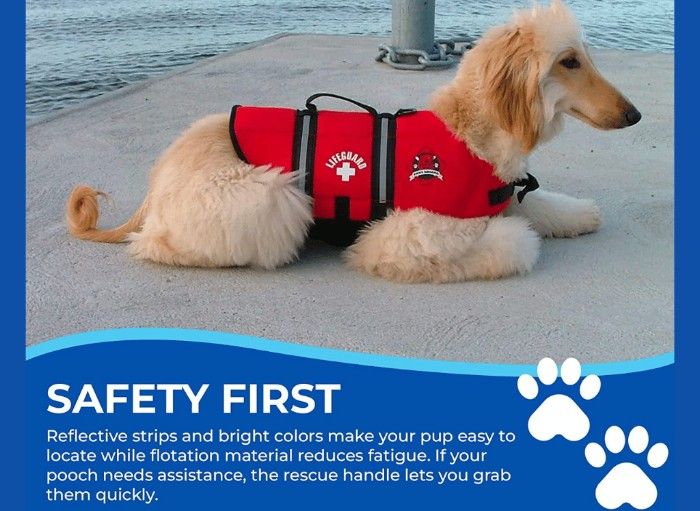 Things to Know
Paws Aboard dog life vests not only provide peace of mind but also come in a range of colors and designs to suit your pup's personality. From bold racing flames to pretty pink polka dots, and even classic nautical dogs, there's a style for every pooch. And with a handle on top for quick emergency grabbing and a secure hook and loop fastening system, their dog life jackets are not only fashionable but also functional.
Additional Info
Sizes: XXS, XS, Small, Medium, Large, XL
Colors: Blue & Yellow, Grey Camo, Nautical Dog, Yellow, Pink, Pink Polka Dot, Racing Flames, Red
Special Feature: Reflective, Adjustable Straps
---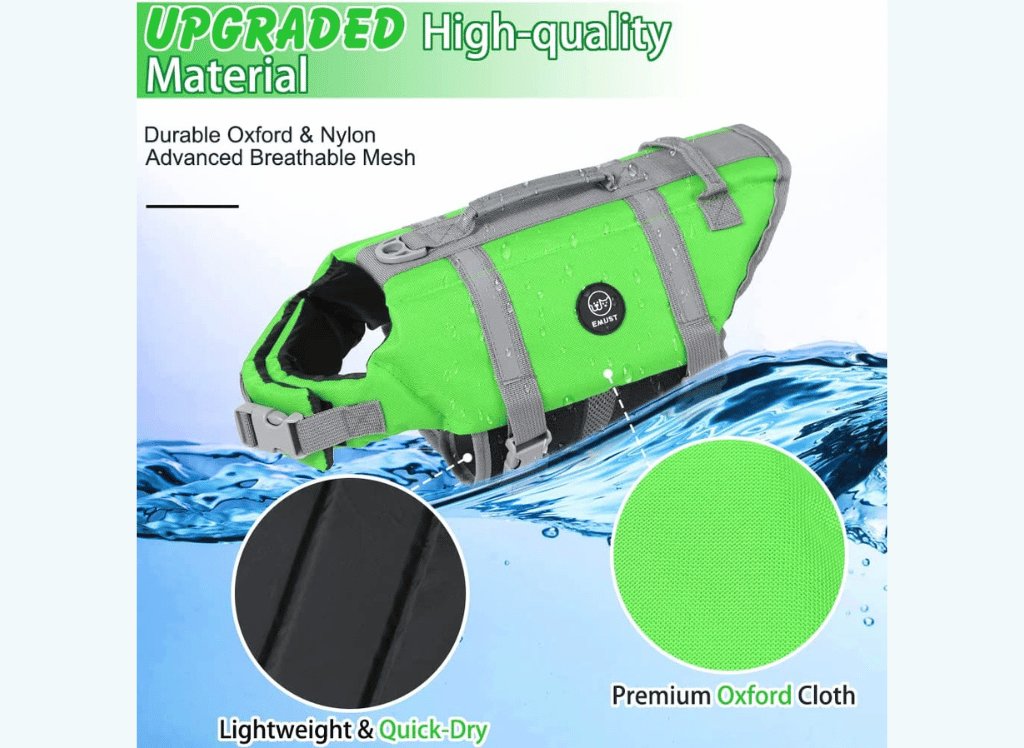 EMUST Dog Life Vest - With Rescue Handle
Check Price
Why We Love It
If you're an avid dog lover and enjoy spending time out on the water with your furry friend, you'll want to consider investing in a dog life vest like this one made with waterproof breathable material. It's constructed with premium polyester Oxford and nylon, along with mesh fabric which allows for quick drying and proper drainage. Available in six sizes from XS to 2XL, this life jacket has been designed to fit most sized dogs. One thing to keep in mind when ordering is to measure your dog twice to get the correct size and refer to the dimension chart. It's always better to order a size up if your dog is between two sizes. Safety is always paramount when it comes to our pets and this dog life vest offers a sturdy rescue handle on top as well as reflective strips to ensure optimal visibility.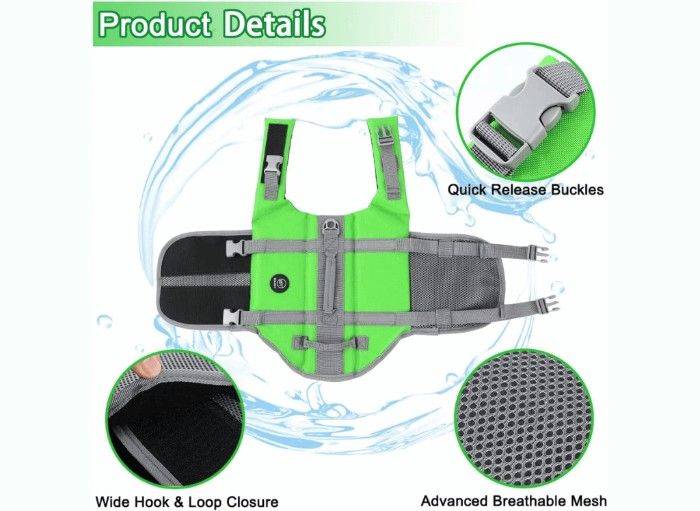 Things to Know
Designed with fashion colors and cute patterns, this vest is sure to catch the attention of everyone around. Whether you're out by the pool, heading to the beach, or taking a boat ride, your dog will be the center of attention. In addition to its trendy appearance, this life preserver boasts a practical design. Adjustable belts and quick-release buckles allow for a comfortable fit and easy on/off access. A handy handle on the top makes grabbing your dog in the water a breeze, while the heavy-duty D-ring hook is perfect for attaching a leash. With reflective stripes and bright colors, maximum visibility is guaranteed.
Additional Info
Sizes: XXS, XS, Small, Medium, Large, XL, XXL
Colors: 28 Different colors
Special Feature: Reflective, Adjustable, Breathable
---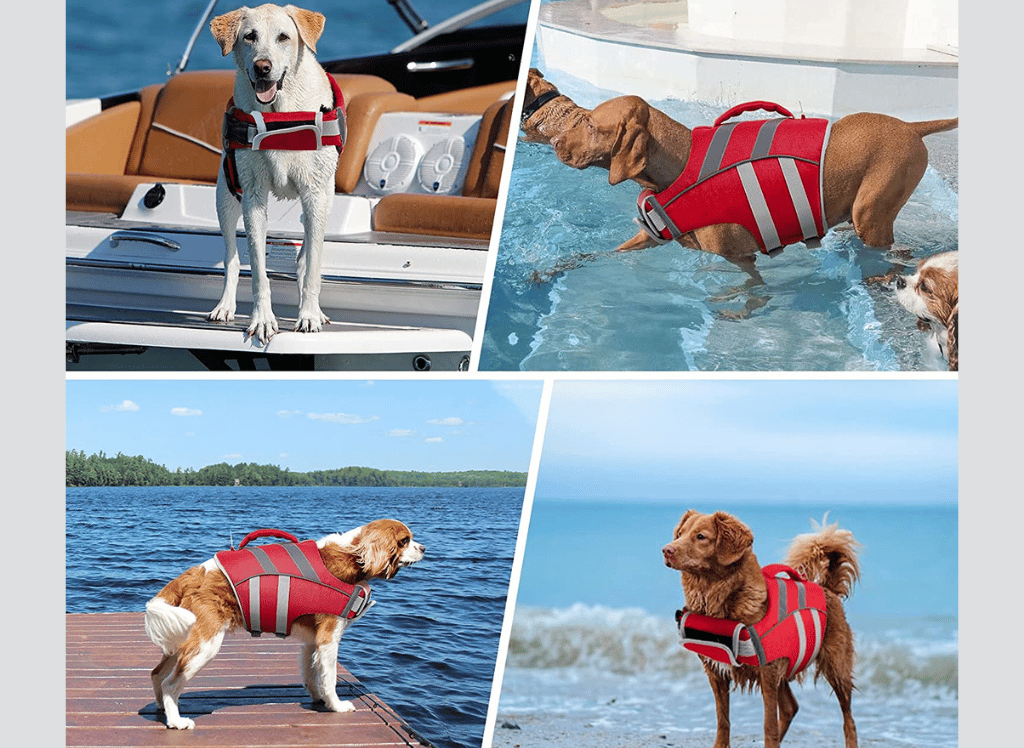 Kuoser Dog Life Jacket with Reflective Stripes
Check Price
Why We Love It
Kuoser pet swimming vest comes in 6 different sizes, from XS to XXL, so you can find the perfect fit for your dog no matter their breed. And don't worry, Kuoser sizes are carefully tailored to fit a wide variety of dogs, including Teddy, Chihuahua, Beagle, Poodle, Bulldog, Schnauzer, Labrador, and Golden Retriever. But before you make your purchase, don't forget to measure your dog twice and check their size chart in the product description to ensure a proper fit. Plus, their durable ripstop Oxford and Nylon fabric, along with high-density pearl cotton foam, offers superior flotation while still allowing for comfortable movement on land. Safety and comfort, all in one package.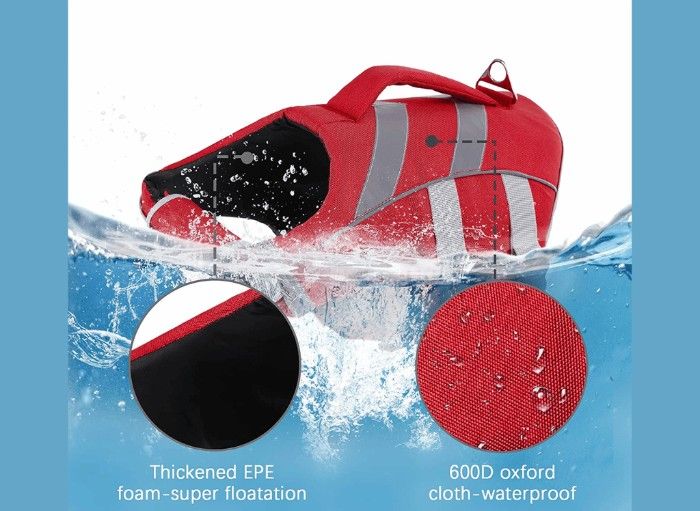 Things to Know
This life jacket comes with a grab-handle on the top, which makes it perfect for easy rescue lifting when the dog is in danger. Plus, the strong D-ring is convenient for dog leash installation if you want to take your dog for a walk. The quick-release buckle and exquisite workmanship make this life vest easy to put on and take off. Enhanced stitching for the handle and straps ensures the safety of the dogs, and adjustable straps provide a better fit. Additionally, the comfortable neck opening reduces dog neck friction. Kuoser's dog life vest is designed with high visibility and creativity in mind. The company uses the most persistent reflective band so that you can spot your dog quickly. With this life vest, you can make your beloved dogs become a star while swimming, walking, boating, surfing, sailing, or any water sports.
Additional Info
Sizes: XS, Small, Medium, Large, XL, XXL
Colors: Camouflage, Orange, Green, Yellow Purple
Special Feature: Quick-Release Buckle, Durable Fabric
---
Dog Life Jackets FAQ:
1. Do All Dogs Need Life Jackets?
All dogs love to swim, but not all dogs instinctively swim. Just like people, they need to learn, and some dogs simply cannot get the hang of it. For these pups, a life jacket may be the difference between fun in the sun and a dangerous situation. Even for skilled swimmers, rough waters, strong currents, or unexpected obstacles could cause a dog to struggle. In these situations, the best dog life jacket can mean the difference between life and death. With so many different styles and colors available, finding a comfortable and stylish life jacket for your active dogs is easy. Keep your dog safe this summer and consider investing in a life jacket.
2. What Size Life Jacket Should I Get for My Dog?
The sizing chart for a dog's life jacket is different from that of a human life jacket. A dog life jacket fit is not all about girth alone; neck and length measurements are also essential factors. A too-tight jacket can cause rubbing, while a too-loose one can slip off. So make sure you measure your dog correctly to guarantee the life jacket provides the best fit. With the right size life jacket, you and your furry pal can dive into all the adventure and fun without worrying about their safety.
3. How Do I Know if My Dog's Life Jacket Fits Properly?
The first step is to measure your pup's chest and neck girth, as well as the dog's weight, to ensure you're selecting the appropriate size. Once you've got the right size, put the jacket on your dog and adjust the straps to fit snugly. Ensuring the life jacket sits high up on your pet's chest, covers the torso, and has reflective material are also important factors to consider. With these tips, you can have peace of mind knowing that your furry friend will have a safe and enjoyable time in the water.
4. What Are Some Signs That My Dog Is Not Enjoying Their Life Jacket?
A life jacket can give us peace of mind and increase our dog's chances of survival in case of an emergency. However, not all dogs are fond of wearing them. Signs that your pooch may not be enjoying their life jacket can include excessive scratching, refusal to move or climb into the water, and irritability towards the jacket itself. It's important to monitor your pup's behavior to ensure that they're comfortable and happy while wearing their life jacket. With patience, positive reinforcement, and the right fit, you can gradually train your dog to accept and even enjoy wearing their life jacket.
5. Is It Safe to Leave My Dog Unattended While Wearing a Life Jacket?
While most dog life jackets can be a valuable tool to help keep our dogs safe in the water, it's important to remember that accidents can still happen. Even the best dog life jackets are not a substitute for supervision, and it's always a good idea to keep a watchful eye on our pets to ensure their safety at all times. So, while a life jacket can certainly help your small and big dogs stay afloat in the water, it's ultimately up to us as owners to keep them safe and secure.
6. How Do I Clean My Dog's Life Jacket?
If you are the proud owner of a water-loving pup, then you probably know how important it is to keep your furry friend safe with a life jacket. But now that your dog's life jacket has been worn and may have accumulated dirt and grime, you might be wondering how you can keep it clean. First, always read the manufacturer's instructions and follow their recommended cleaning methods. Typically, you can wash the life jacket in a washing machine on a gentle cycle with mild detergent. Be sure to remove any excess debris or hair from the jacket before washing. Then let it air dry completely before storing. By taking the time to properly clean your dog's life jacket, you can ensure that it stays in good condition and keeps your furry companion safe on all of your aquatic adventures.
Final Thoughts About Dog Life Jackets
Dog life jackets are an essential piece of safety equipment for any pup who loves to explore the open waters. Not only do they provide added buoyancy and protection in case your pet falls into rough water or gets caught in a current, but they also help keep them warm during extended swims. With so many styles, sizes, colors, and brands like Outward Hound or Ezydog life vest that are available on the market today, you're sure to find one that fits both your budget and your pup's needs perfectly! Keep these tips in mind when shopping around for the best life jacket for your furry friend – it could save their lives someday!
Thank you for reading!
Your friend,
Kelly
If you are interested in entertainment while you shop, you can get a 30-day free trial of Amazon Prime Music or listen to your favorite audiobook with Two Free Audiobooks from Audible Plus! Additionally, if you want to take advantage of 2-day shipping, get a try Amazon Family 30-day Trial.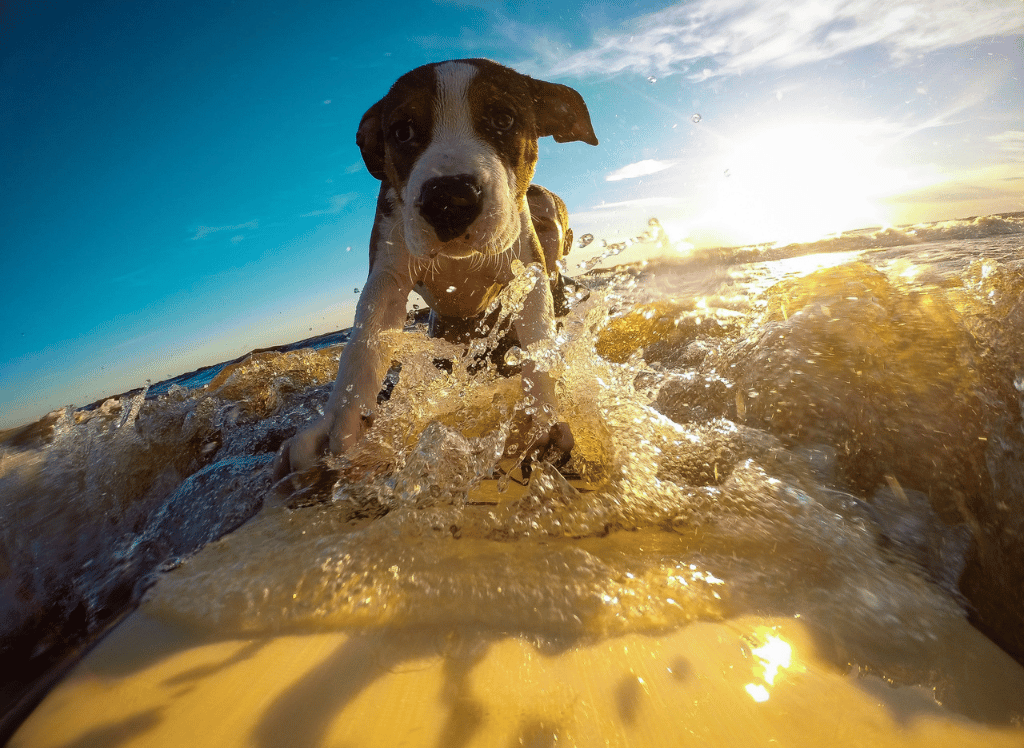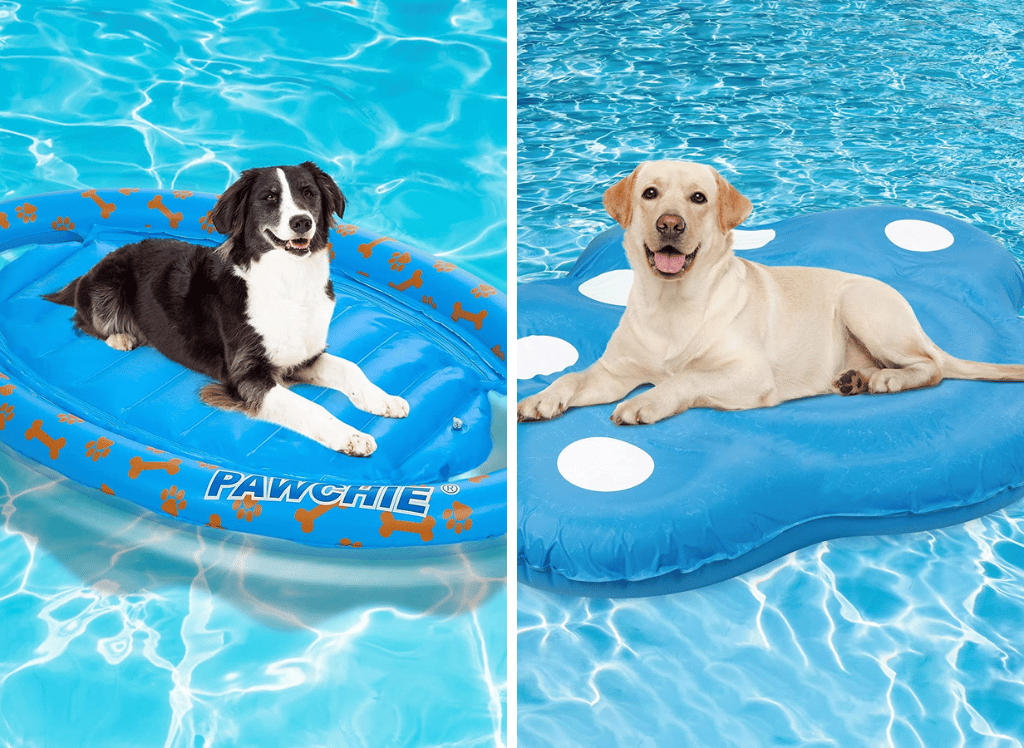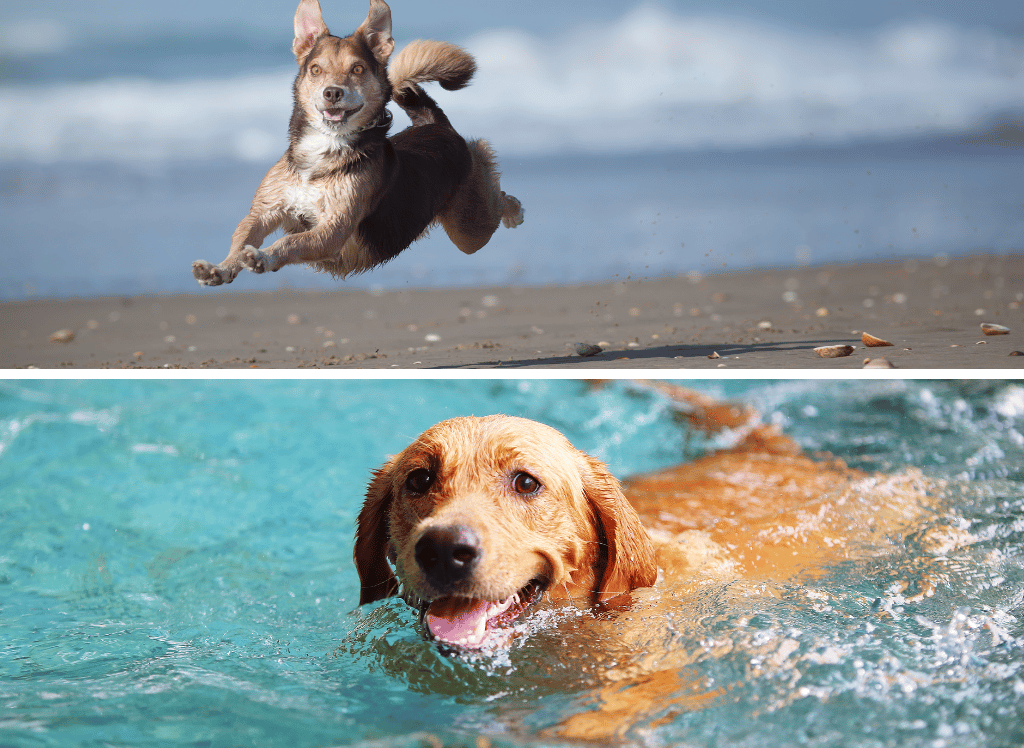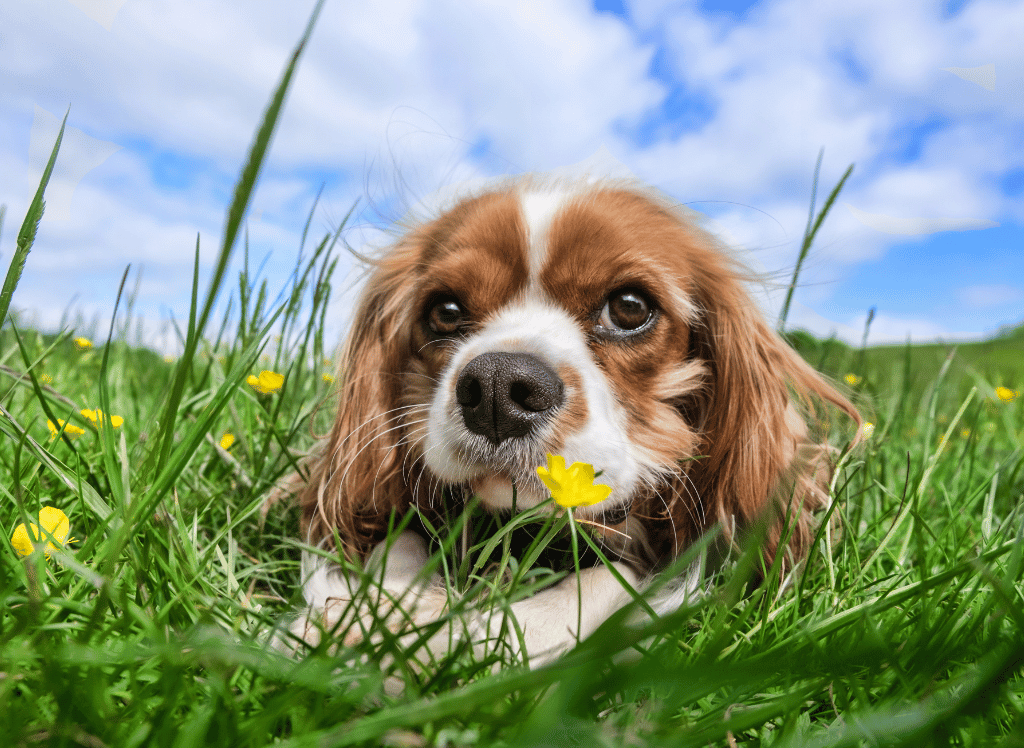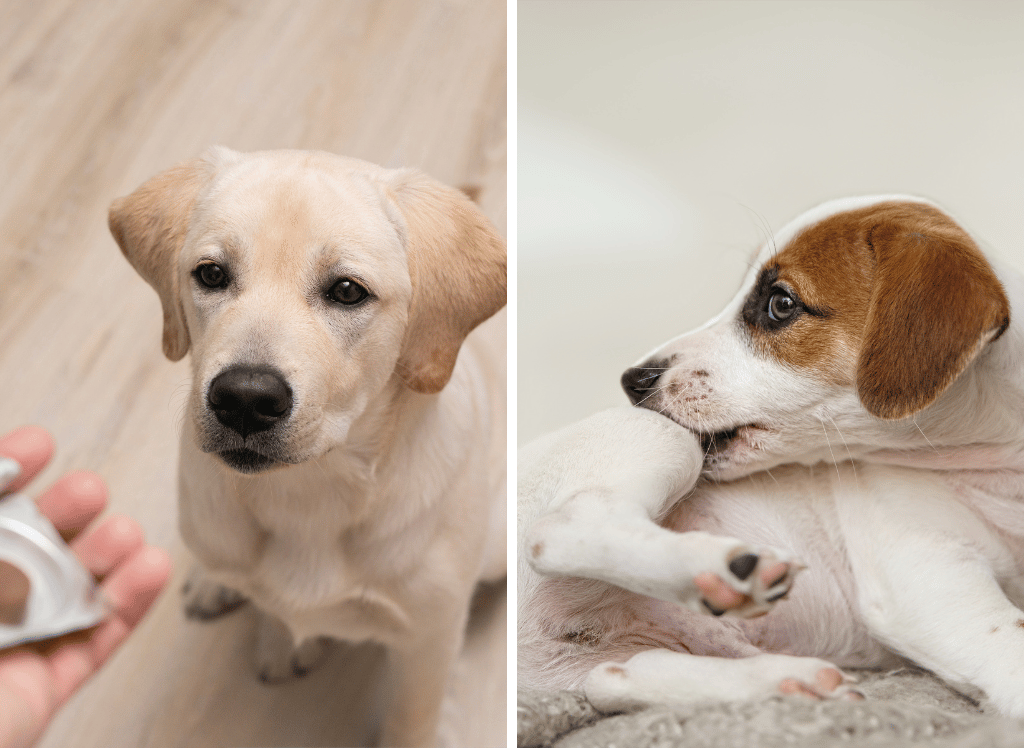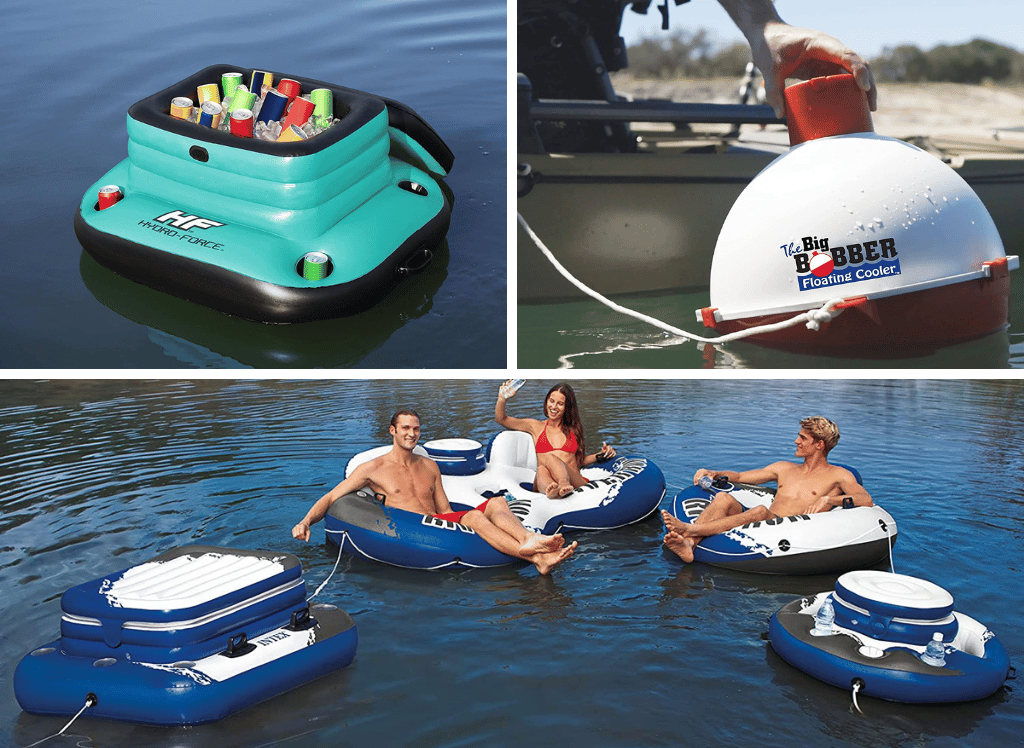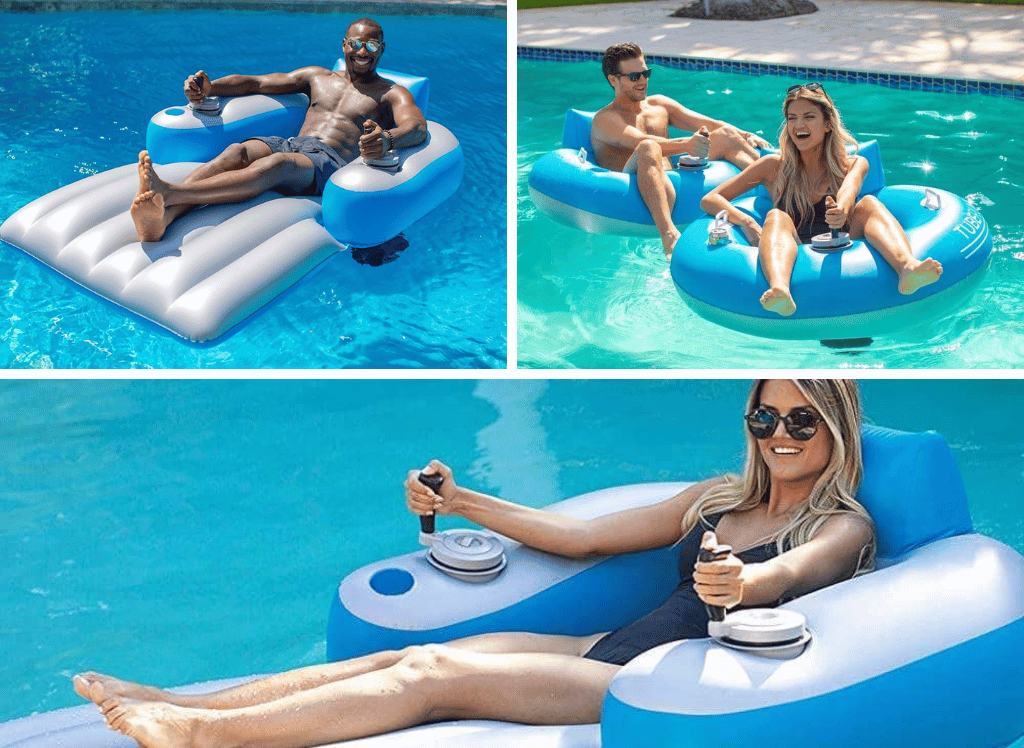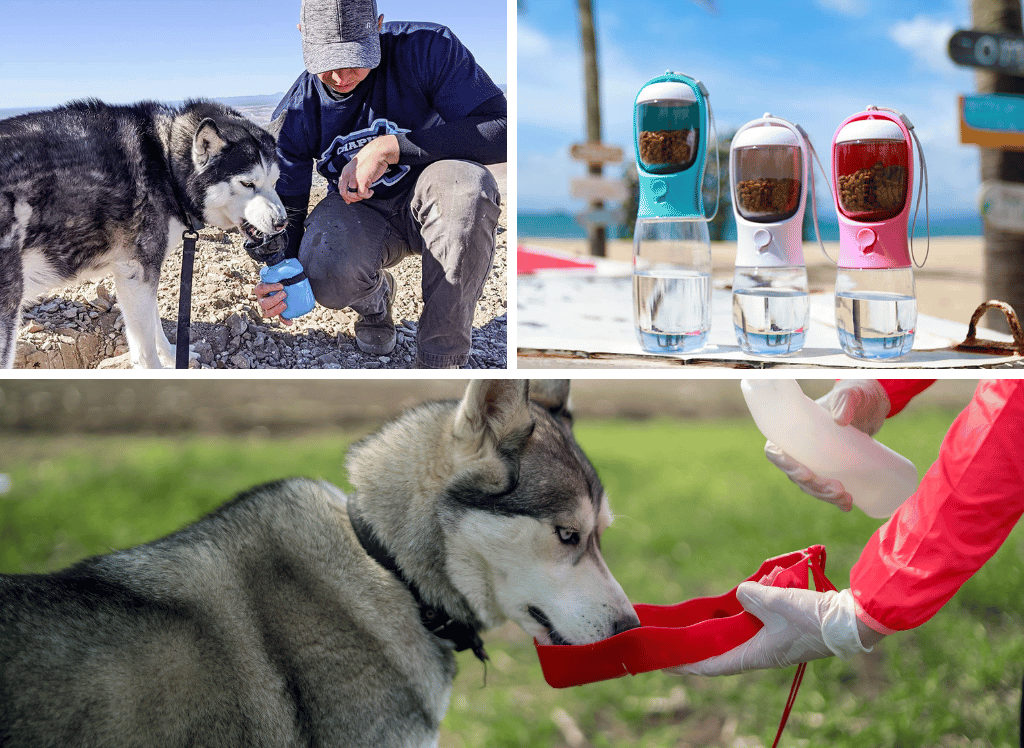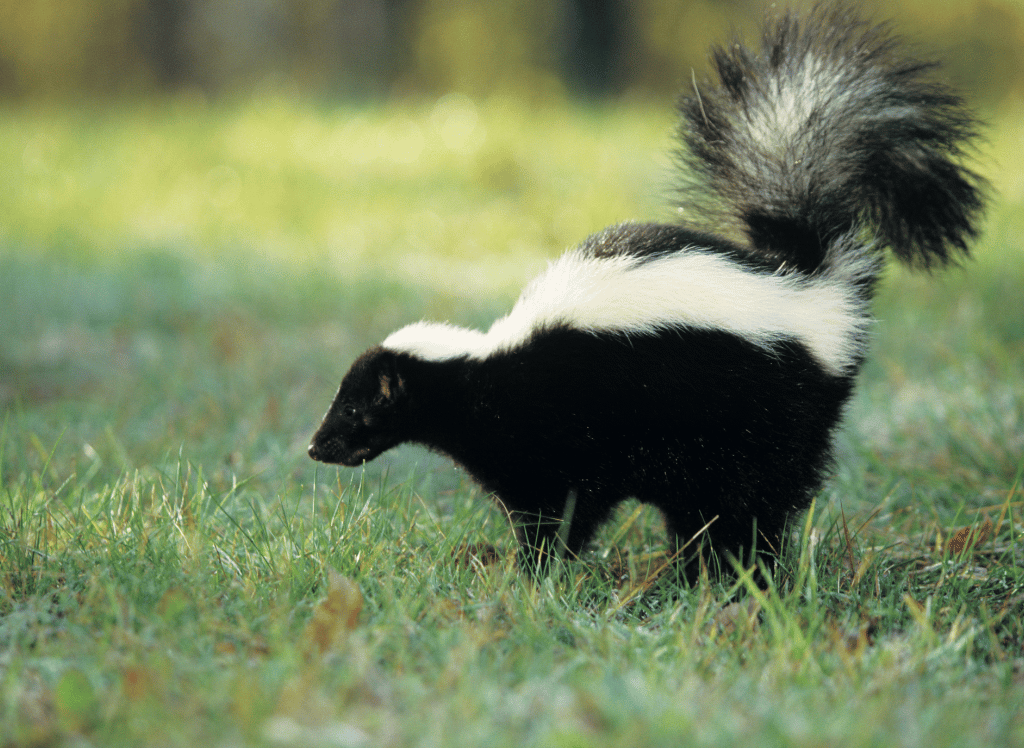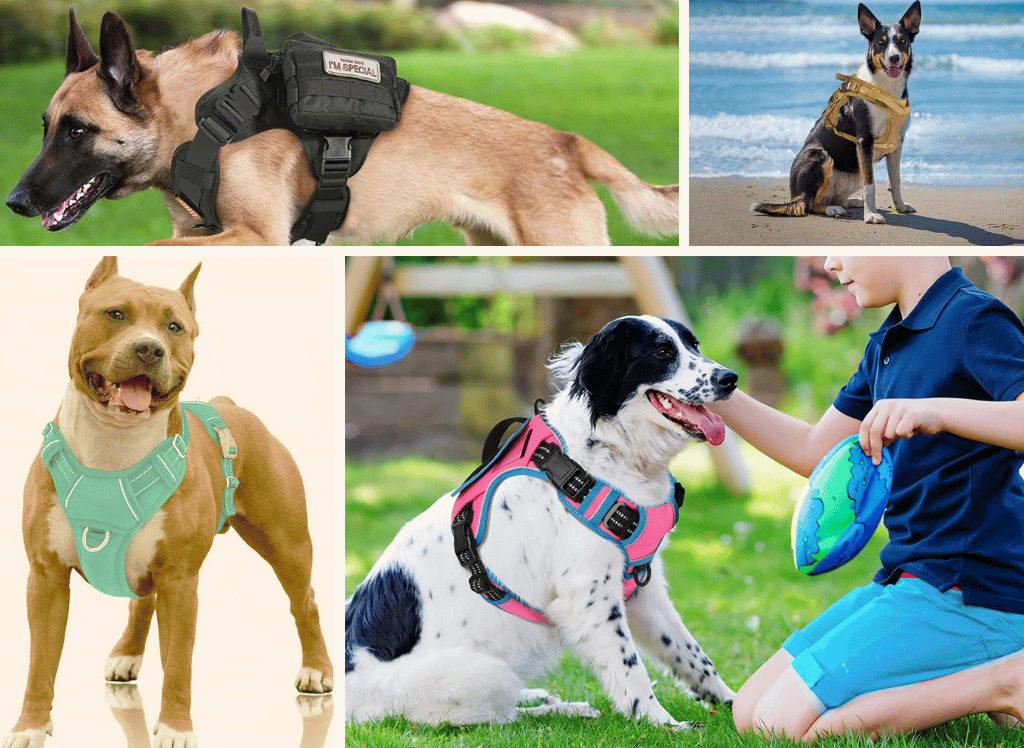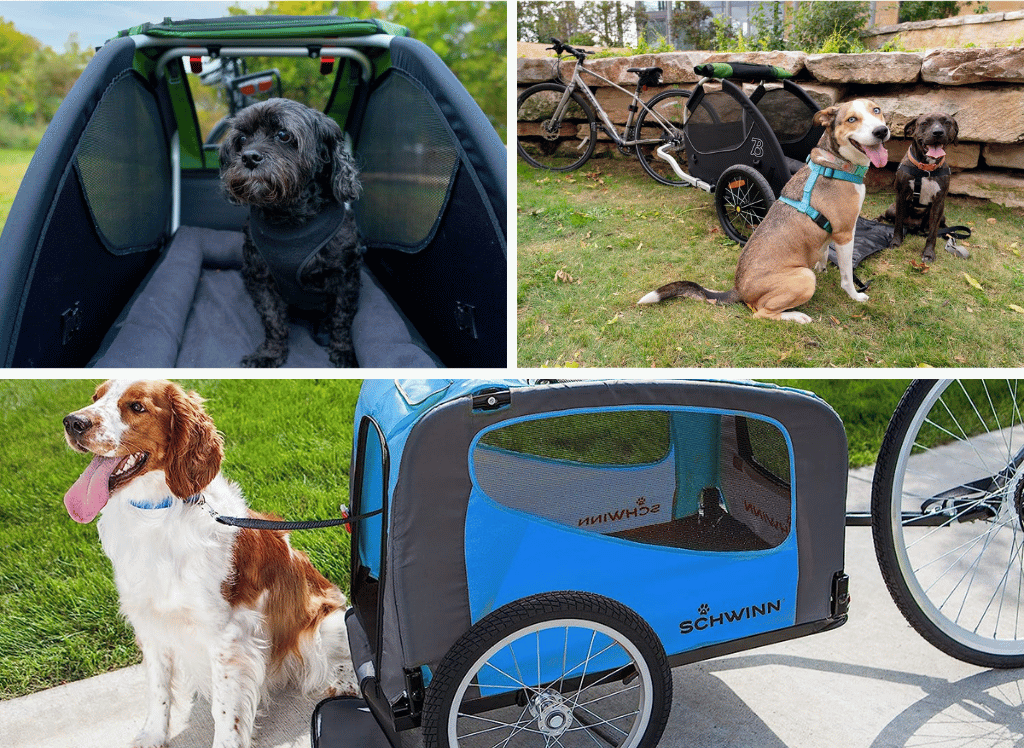 Are you looking for the best products? We've got you covered! Our editors independently selected each item on this list. FactsFanatics may collect a share of sales or other compensation (at no cost to you) from links found within these pages if they choose to buy something (that's how we stay in business); as an Amazon Associate, we earn from qualifying purchases. Reviews have been edited for length and clarity; enjoy finding your next favorite thing today!