Are you looking for the best products for your pup's water needs while on the go?
These dog water bottles are a great way to make sure your pet stays hydrated when out and about. They're portable, easy to use, and come in a variety of sizes and styles. But with so many options available, it can be hard to know which one is right for you and your pup.
Don't worry - we've got you covered! We've put together this article to help guide you through the process of choosing the perfect water bottle. From size considerations to features like leak-proofing or insulation, we'll give you all the information needed to make an informed decision that will keep both you and your furry friend happy!
Read on now for our top tips on finding the best water bottle for your pet!
How FactsFanatics Chooses These Water Bottles for Your Dog
If you're an owner of a furry friend, finding the best water bottle might be a challenge. You want something sturdy, portable and that doesn't spill all over your car seats or bag. With so many options available, choosing the right product might take time and research that you don't have. That's where we come in! FactsFanatics has gathered a team of expert reviewers who have spent countless hours testing and reviewing the best water bottles for dogs. We want to save you time and money so you can focus on spending quality time with your pup. Keep reading to discover which portable water bottle is the perfect fit for you and your furry friend.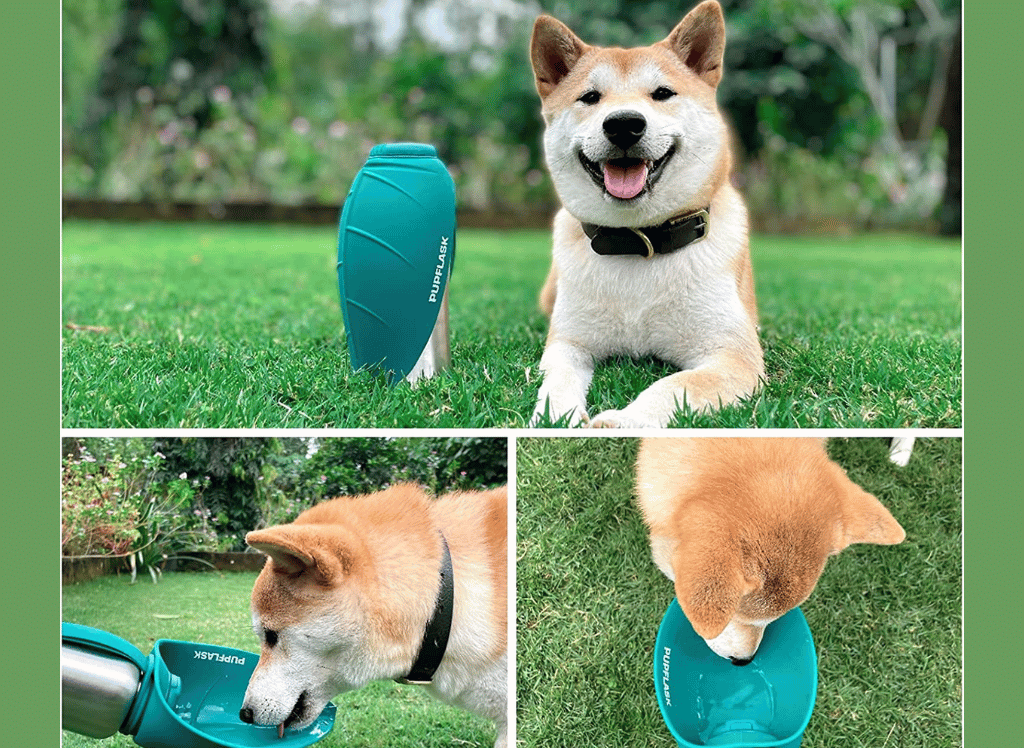 PupFlask Large Dog Water Bottle
Check Price
Why We Love It
Whether you're taking a road trip across the country or just taking a stroll through the park, having a happy and hydrated pet by your side can make all the difference. That's why the PupFlask is the perfect companion for any adventure. Featuring a reversible leaf-shaped bowl that lays flat over the bottle when not in use, this travel bottle eliminates the need for extra bowls or wasted water. With just a quick flip of the silicone top, the PupFlask easily transforms into a large drinking cup, allowing your furry friend to stay hydrated on the go. Made from durable stainless steel and holding up to 27 or 40 oz of fresh water, the PupFlask is the perfect size for all your pet's outdoor adventures.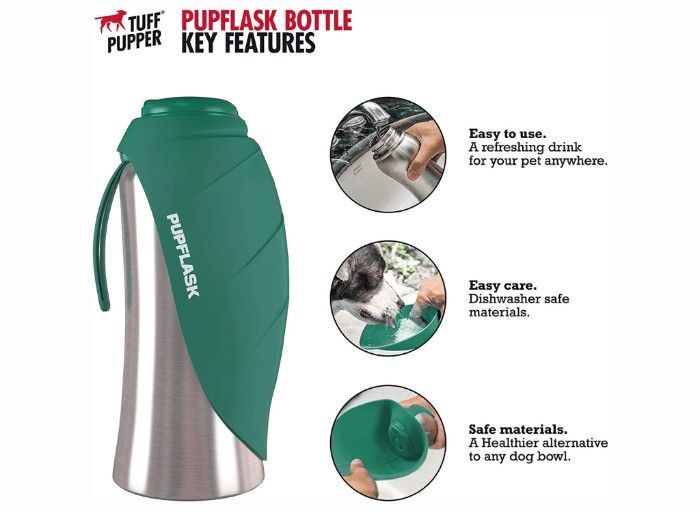 Things to Know
Tuff Pupper's commitment to providing environmentally friendly, food-safe materials is reflected in their extra large silicone collapsible cup for dogs. The 100% food-grade silicone bowl cup is both odorless and never holds a smell after use, ensuring your furry companion always has access to fresh water when traveling away from home. In addition to their dedication to quality materials, Tuff Pupper offers top-tier customer service and a 100% satisfaction guarantee. If any issues arise within the first 30 days, the team at Tuff Pupper will replace or refund the product at no cost to the customer. Plus, their products come with a hassle-free lifetime guarantee against manufacturer defects. Invest in Tuff Pupper's trusted pet products and rest assured that your furry friend is in good hands.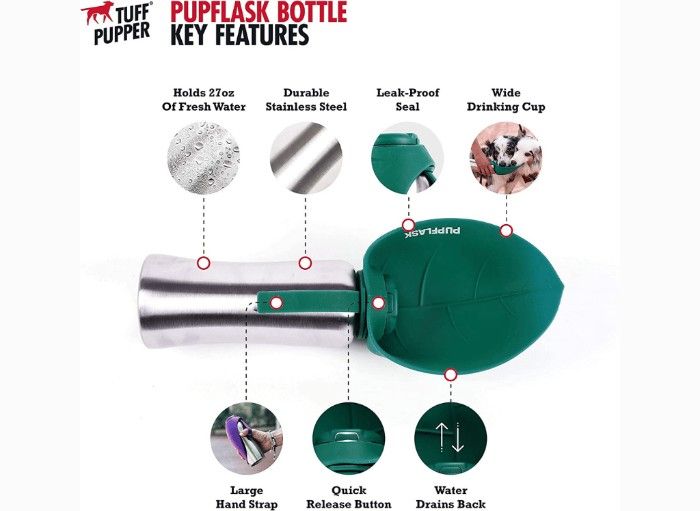 Additional Info
Brand: Tuff Pupper
Colors: Green, Red, Blue, Purple
Material: Stainless Steel
Capacity: 27oz or 40oz
---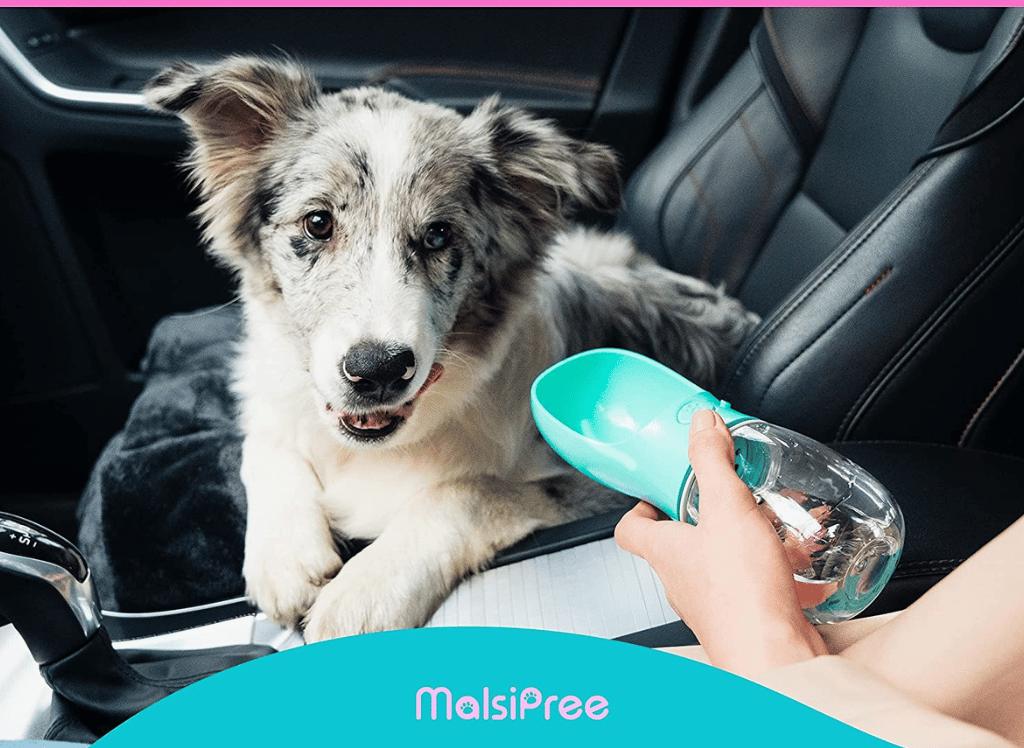 MalsiPree Dog Water Bottle - Leak Proof
Check Price
Why We Love It
This portable dog water bottle is perfect for those on the go. With its easy-to-use water key, any unused water can be effortlessly stored back in the container, eliminating any water waste. Plus, its leak-proof design ensures that you won't have to worry about any unwanted spills or leaks. Made with high-quality food-grade material, you can also rest easy knowing that your pet will be completely safe when they use this dog water dispenser bottle.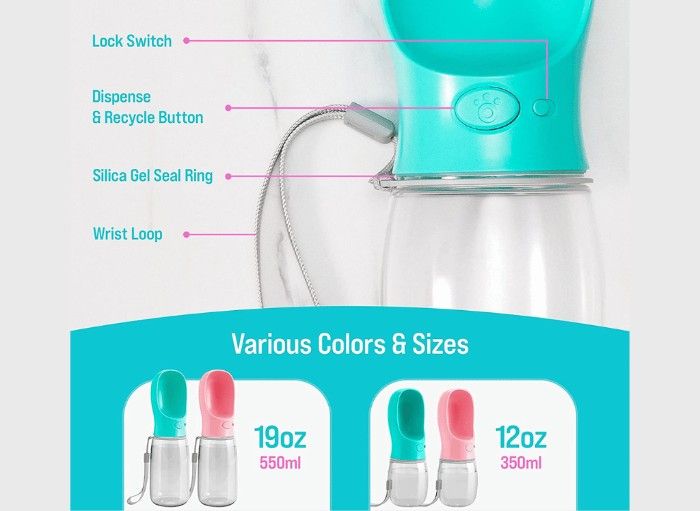 Things to Know
The Portable Doggie Water Bottle from MalsiPree is a great solution that offers a reasonable capacity and compact size. With the one-hand operation, you can easily press the water key to fill the water and release it to stop the flow. The attached strap makes it convenient to carry, either by hand or in your bag. You'll never have to worry about your furry friend being thirsty again when you have this handy water bottle on hand.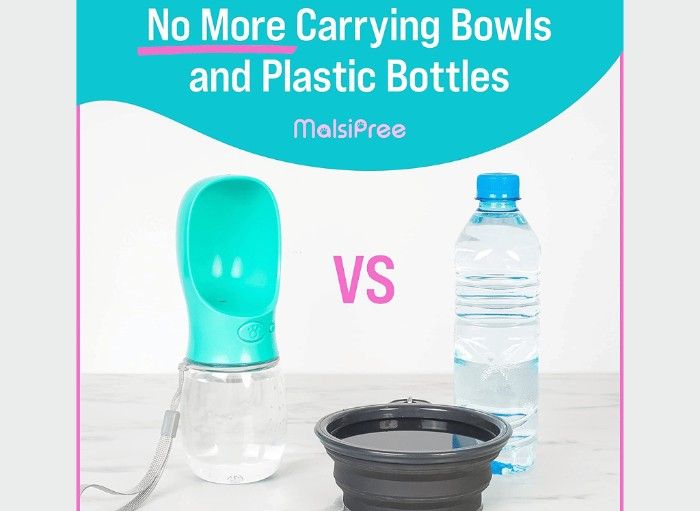 Additional Info
Brand: MalsiPree
Colors: Blue, Black, and Pink
Material: Plastic
Capacity: 12oz or 19oz
---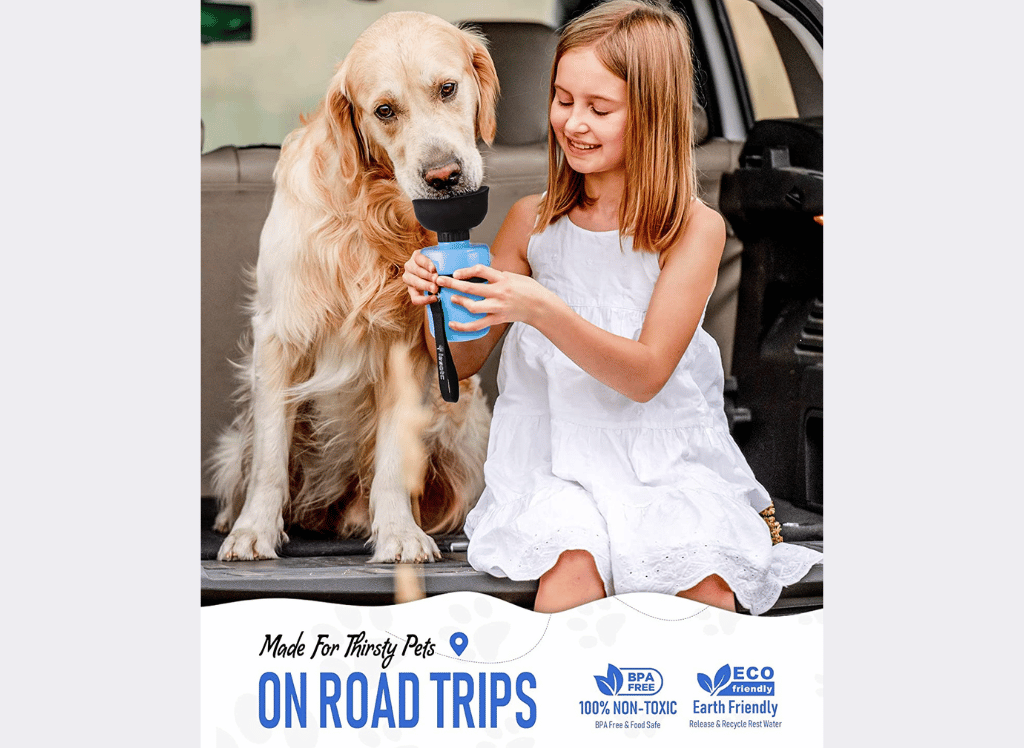 Lesotc Upgraded Pet Water Bottle for Dogs
Check Price
Why We Love It
As a pet owner, you know that keeping your furry friend hydrated on the go can be a hassle. But the U2mug dog water bottle has got you covered. This innovative bottle combines both a water bottle and an attached bowl, making it the ultimate two-in-one solution for you and your furry companion. With its exclusive patented design, the foldable cap doubles up as a bowl, so you can easily offer your dog fresh water to drink whenever they need it. What's more, the top rotational buckle ensures that water does not spill out or return to the bottle, so you can keep your travel pack safe and dry. And thanks to the sealed silicone gasket inside the cover, you can rest easy knowing that there won't be any water leakage or contamination. With the U2mug dog bowl water bottle, staying hydrated on the go has never been easier!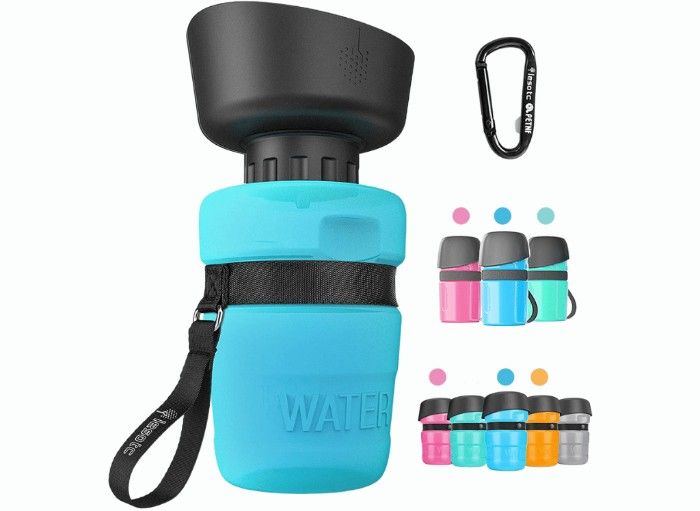 Things to Know
Made of LDPE stock and food-grade silicone, this BPA-free and odorless bottle is environmentally friendly, while also being recyclable. The detachable parts make cleaning a breeze, with the silicone bowl even being dishwasher-safe. This bottle won't weigh you down during your outdoor adventures. With a large capacity, you can provide safe and fresh water for your furry friend any time, even during those hot summer hikes. Keep your fur baby cool and hydrated, while also helping the environment with this compact and convenient water bottle.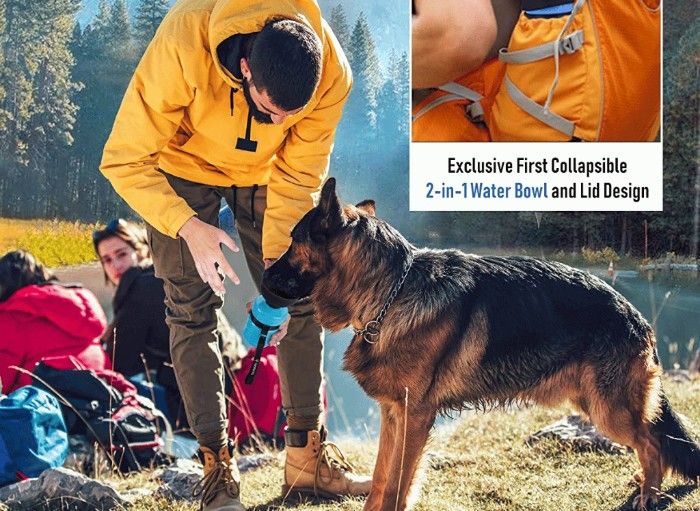 Additional Info
Brand: Lesotc
Colors: Blue, Black, Orange, Grey
Material: Silicone
Capacity: 14oz, 18oz, 21oz, 28oz, or 35oz
---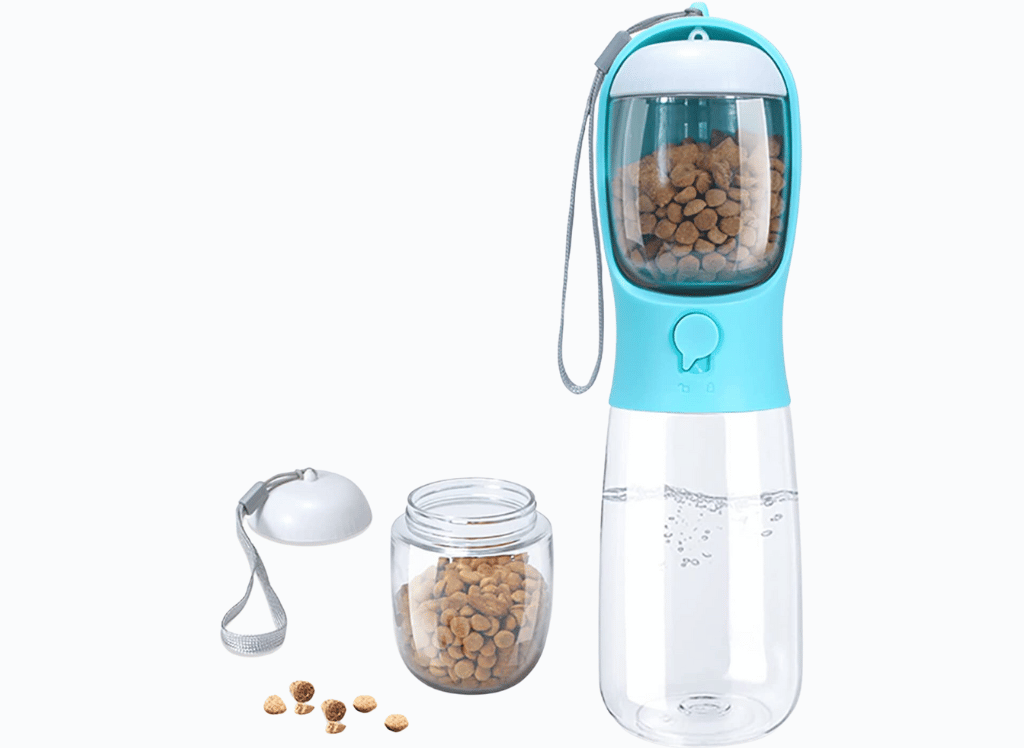 AVELORA Dog Water Bottle
Check Price
Why We Love It
Keeping your furry friend hydrated just got easier with the Avelora water bottle! This innovative bottle can hold up to 10 or 19 ounces of water (550 ml) and even has space for 100 grams of food. The built-in activated carbon filter element ensures that impurities and chlorine are filtered out, making the water purified and safe for your pet to drink. Not only is this bottle convenient to carry around (it can easily fit into your pocket or backpack), but it also comes with a sling rope to hang on your hand. It's not just for dogs - rabbits, cats, and other pets can also drink easily from this bottle. Give your pet the gift of clean, accessible water on the go with the Avelora water bottle.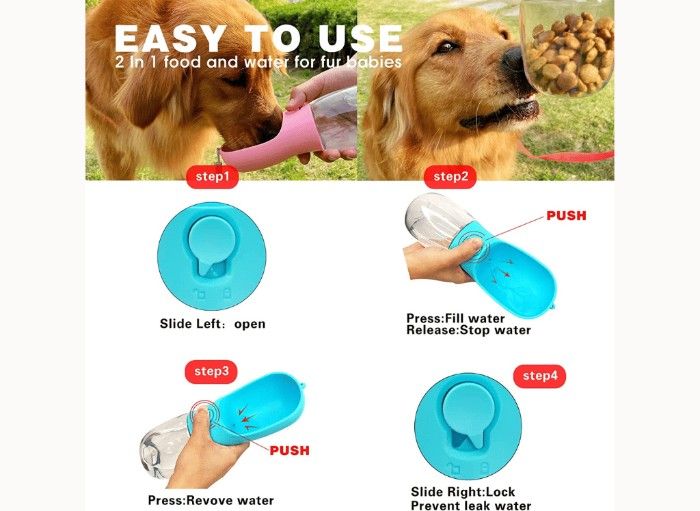 Things to Know
This pet water bottle is not only designed to hold water, but it also has the added benefit of carrying food. Made with 100% food-grade silicone and plastic, it's both BPA and lead-free, making it a safe option for your pets. With materials that are high temperature resistant, including food-grade ABS and PC, it has been approved by the FDA as 100% healthy for your pet. When it comes to durability, their pet water bottle is top-notch, as it has been designed to be drop-resistant. Your furry companion deserves the very best, and our pet water bottle is the perfect companion for all of their adventures.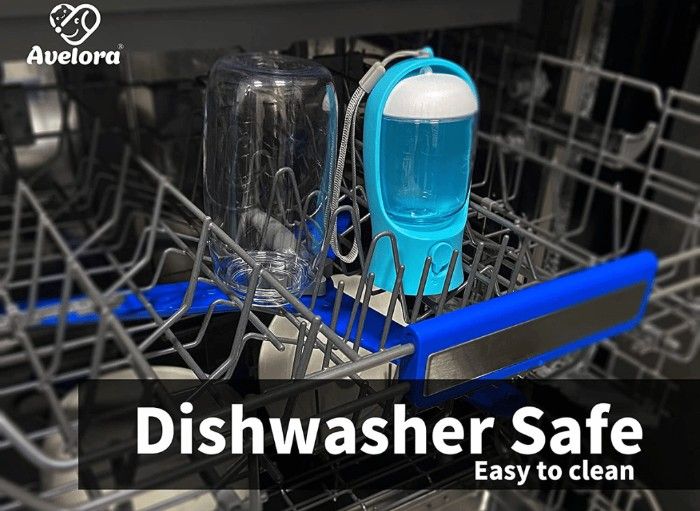 Additional Info
Brand: AVELORA
Colors: Blue, Pink, White
Material: Plastic
Capacity: 10oz or 19oz
---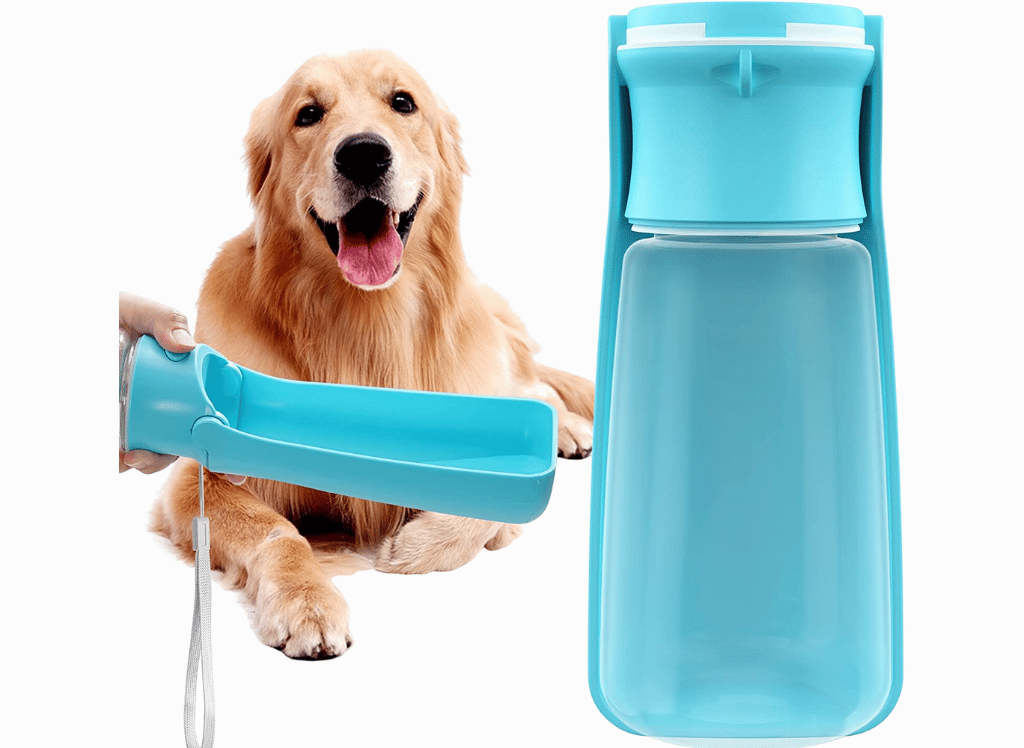 SOICTA Portable Dog Water Bottle
Check Price
Why We Love It
The dilemma of carrying enough water for your furry companion during outdoor adventures is solved with the foldable dog water dispenser. This ingenious design is not only space-saving but also holds more water and provides a larger drinking trough for your dog. Worried about leaks? The double leak-proof feature of the portable dog water bottle includes silicone rubber sealing rings and waterproof keys to ensure no messy spills. Controlling the water flow is a breeze with the simple one-touch release function that delivers almost all the water into the bottle thanks to the specially designed valve. Give your dog the gift of hydration on the go with this game-changing dog water dispenser.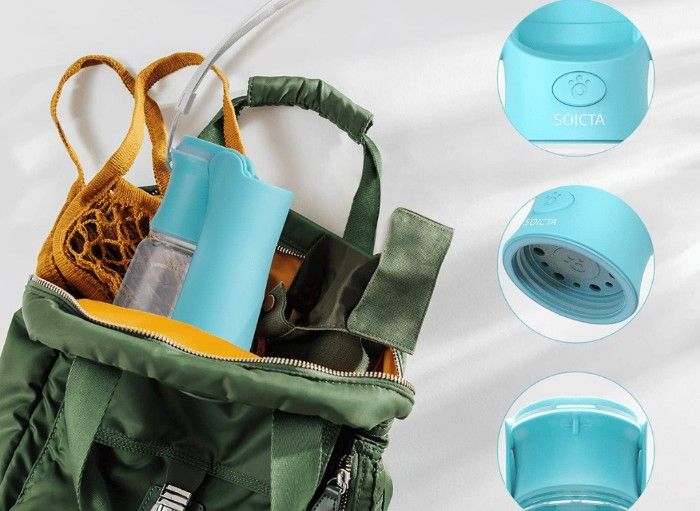 Things to Know
This 19OZ water bottle for small to large dogs is a must-have. Not only is it made from high-quality food-grade materials, but it's also eco-friendly and environmentally safe. And if you're pet parents who're always on the go with their furry companion, you'll love that the nylon lanyard makes it easy to carry, and the reasonable size of the bottle allows for easy storage in your bag. Plus, it's completely removable and easy to clean, ensuring that your pup gets the freshest and cleanest water possible.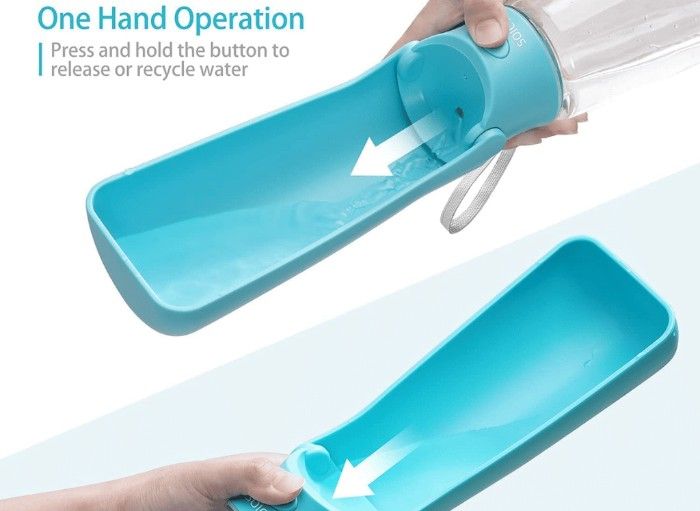 Additional Info
Brand: SOICTA
Colors: Blue, or Pink
Material: Rubber
Capacity: 19oz
---
Portable Water Bottles for Your Dog FAQ:
1. How Much Water Does My Dog Need Per Day?
While it varies depending on factors like weight, activity level, and diet, the general rule of thumb is that dogs need about an ounce of water for every pound of body weight per day. So, if your pup weighs 20 pounds, it should be drinking about 20 ounces of water every day to stay healthy and hydrated. Of course, it's always a good idea to keep an eye on your dog's behavior and make sure they're not showing any signs of dehydration, like lethargy or dry gums, as they might need more water than the average pup. At the end of the day, making sure your dog is staying hydrated is just one more way to keep them happy and healthy for years to come.
2. What Are the Benefits of Using a Portable Water Bottle for My Dog?
Dog owners everywhere know that hydration is key to a happy and healthy pup. But what if your furry friend gets thirsty on the go? That's where a portable water bottle comes in handy. By having one of these convenient tools on hand, you can easily provide your dog with a clean and refreshing drinking reservoir wherever you are. Whether you're out for a hike or just running errands, a portable water bottle ensures your furry companion stays hydrated and healthy. Plus, with features like leak-proof caps and collapsible designs, these bottles are easy to use and store. Give your dog the gift of hydration on the go with a portable water bottle.
3. How Do I Choose the Right Size Water Bottle for My Dog?
When it comes to choosing the right size water bottle for your furry friend, there are a few things to keep in mind. First, consider your dog's size and activity level. A larger dog will likely need a bigger water bottle, while a smaller dog may only require a smaller one. Additionally, if your pup is highly active and spends a lot of time running around outside, you may want to invest in a larger bottle to ensure they stay hydrated. You'll also want to think about the type of bottle you choose - a spill-proof option may be best for a dog who likes to play rough, while a collapsible bottle may be perfect for when you're on the go. With all of these factors in mind, you'll be able to choose the perfect size and style of the water bottle to keep your furry companion happy, healthy, and hydrated.
4. What Type of Water Should I Use in My Dog's Water Bottle?
There are a few things to consider when choosing the right water for your dog's water bottle. First and foremost, make sure the water is fresh and free of any contaminants. Consider using filtered or bottled water, especially if your tap water has a strong taste or odor. Additionally, avoid using distilled water, as it lacks the minerals that are essential for your dog's health. With the right type of water in your dog's water bottle, your four-legged friend will stay happy, healthy, and hydrated all summer long.
5. Are There Any Special Features That I Should Look For in a Portable Water Bottle for My Dog?
When looking for a water bottle for your dog, there are a few features you should consider. Firstly, look for a bottle that is easy to carry, either by attaching it to your dog's leash or throwing it in your bag. Secondly, consider purchasing a bottle with a leak-proof seal to avoid any spills. Lastly, some water bottles come with built-in filtration systems for cleaner water, which can be a great option if you frequently take your dog on outdoor adventures. By selecting a portable water bottle with these features, you can ensure that your furry friend stays hydrated and healthy no matter where you go.
6. What Are Some of the Best Portable Water Bottles for Dogs?
There are many great options available, including foldable bottles that are easy to pack, leak-proof bottles with a detachable bowl, silica gel seal ring, and bottles with built-in charcoal filters for fresh, clean water. It's important to consider your dog's size and drinking habits when choosing a water bottle, but no matter which kind you choose, you'll have peace of mind knowing your pup is staying hydrated and healthy on your adventures together.
Final Thoughts About a Portable Dog Water Bottle
When it comes to keeping your furry family member hydrated while on the go, a portable dog water bottle is an essential item. Not only does it make it easier for you to keep them hydrated on long walks, hikes, and at the dog park, but it also ensures that you don't have to carry bulky containers of water around. It's truly a win taking the time to read this blog post about portable dog water bottles. We hope it provided useful information to help you make the best decision for your pet's hydration needs. Whether you choose a collapsible container, stainless steel bottle, or another option, your pup will be sure to stay hydrated for up to eight hours while on the go!
Thank you for reading!
Your friend,
Kelly
If you are interested in entertainment while you shop, you can get a 30-day free trial of Amazon Prime Music or listen to your favorite audiobook with Two Free Audiobooks from Audible Plus! Additionally, if you want to take advantage of 2-day shipping, get a try Amazon Family 30-day Trial.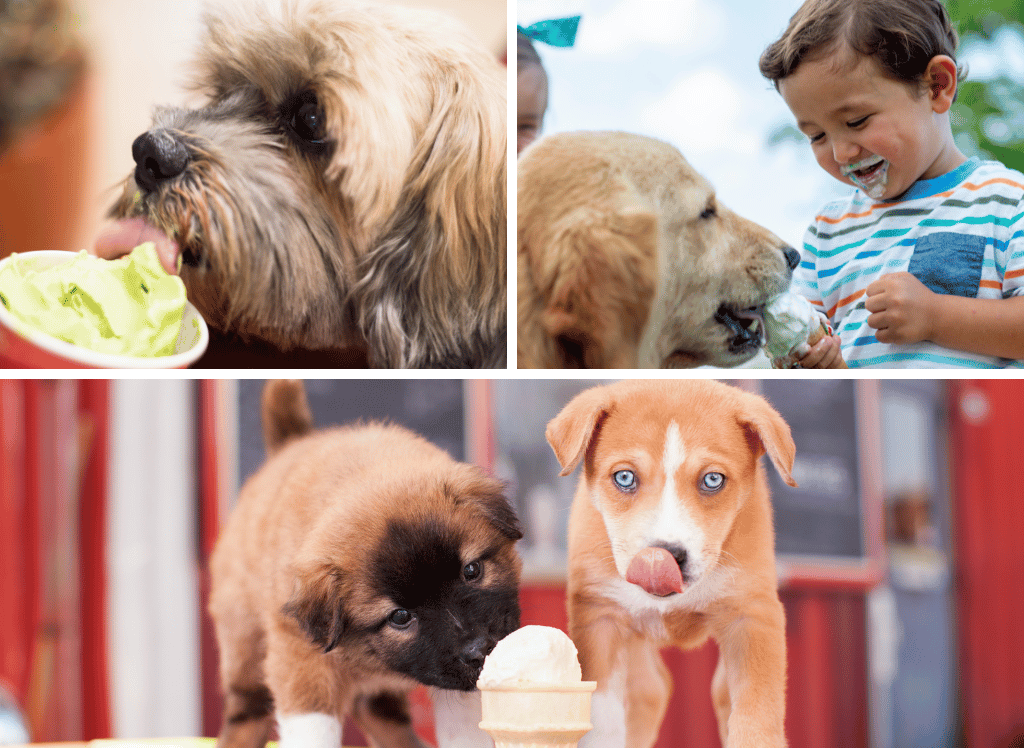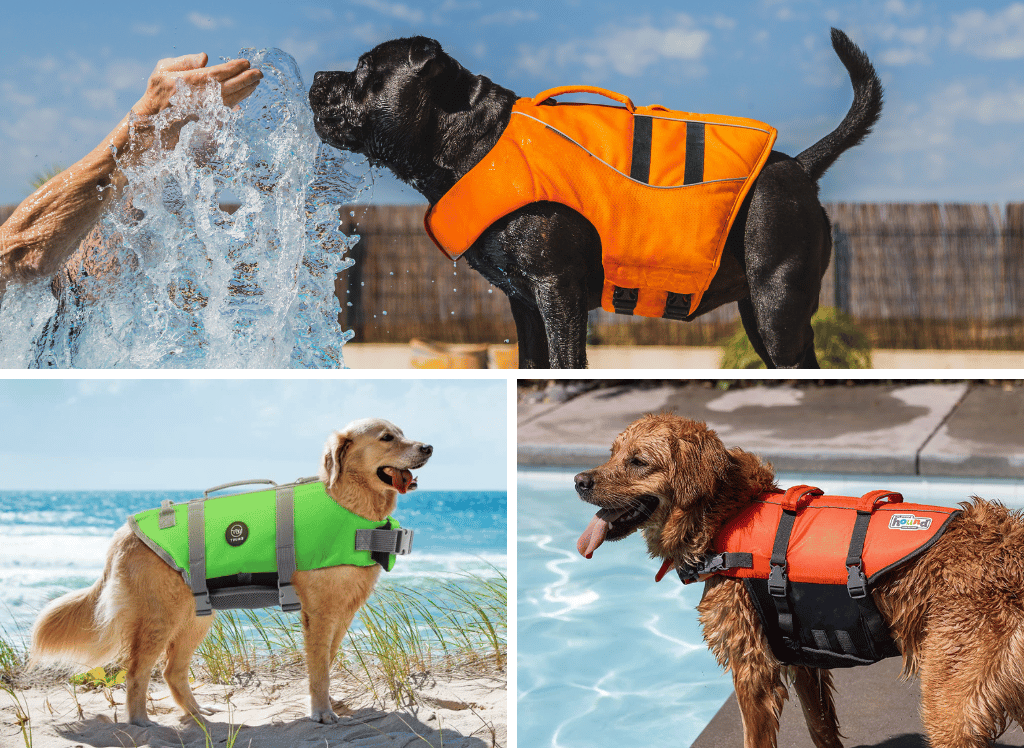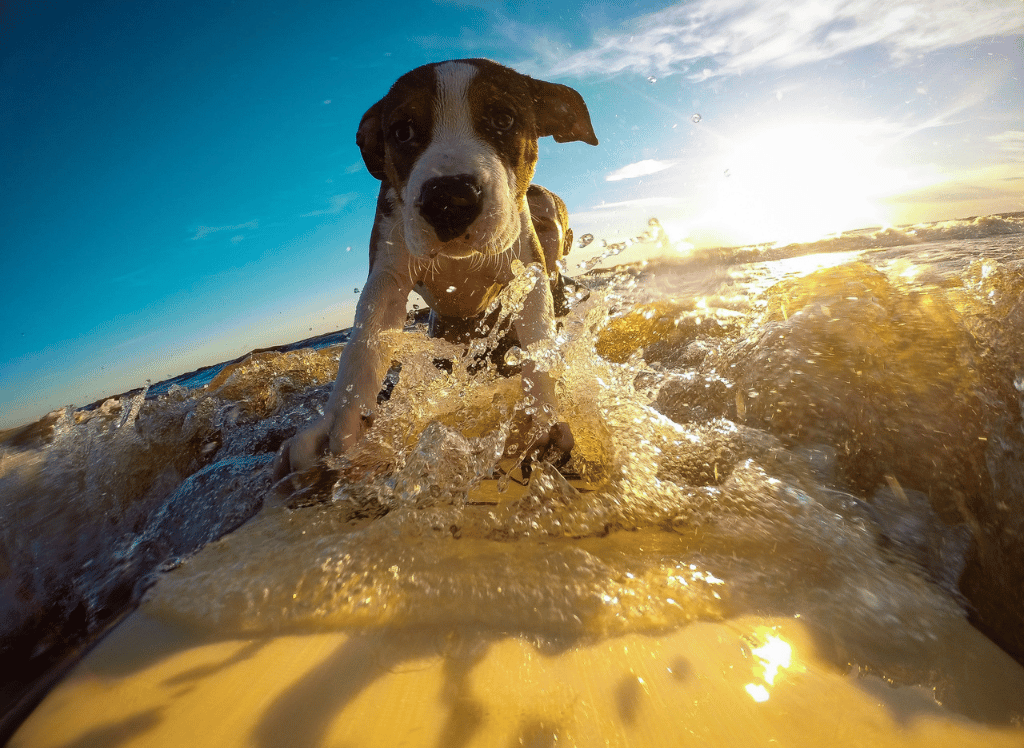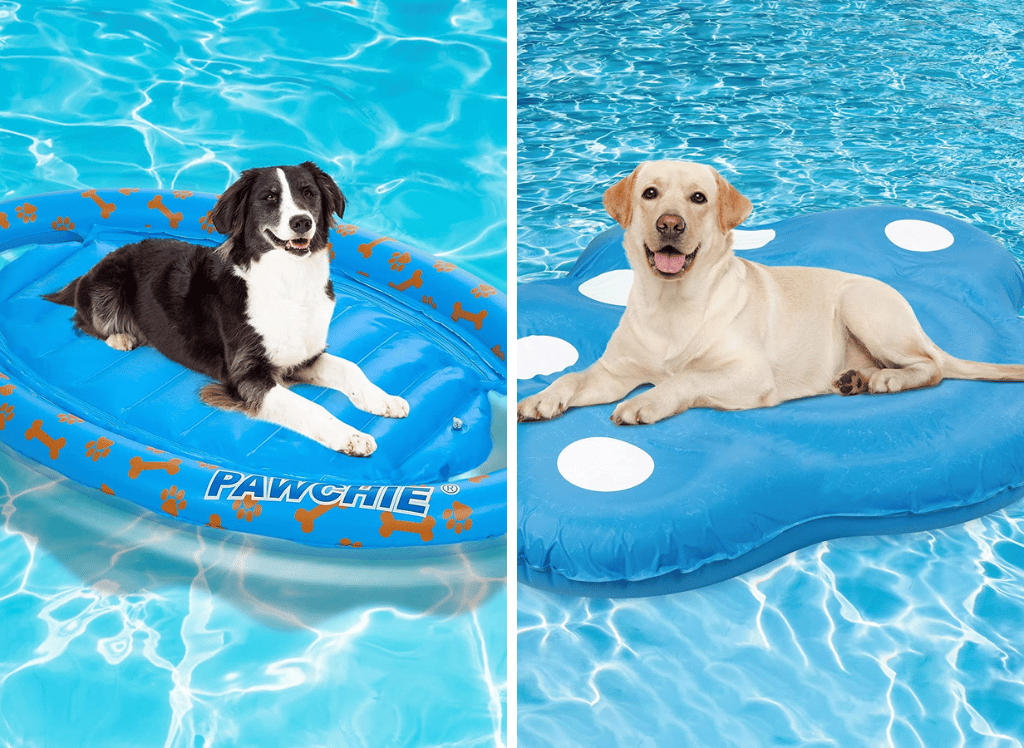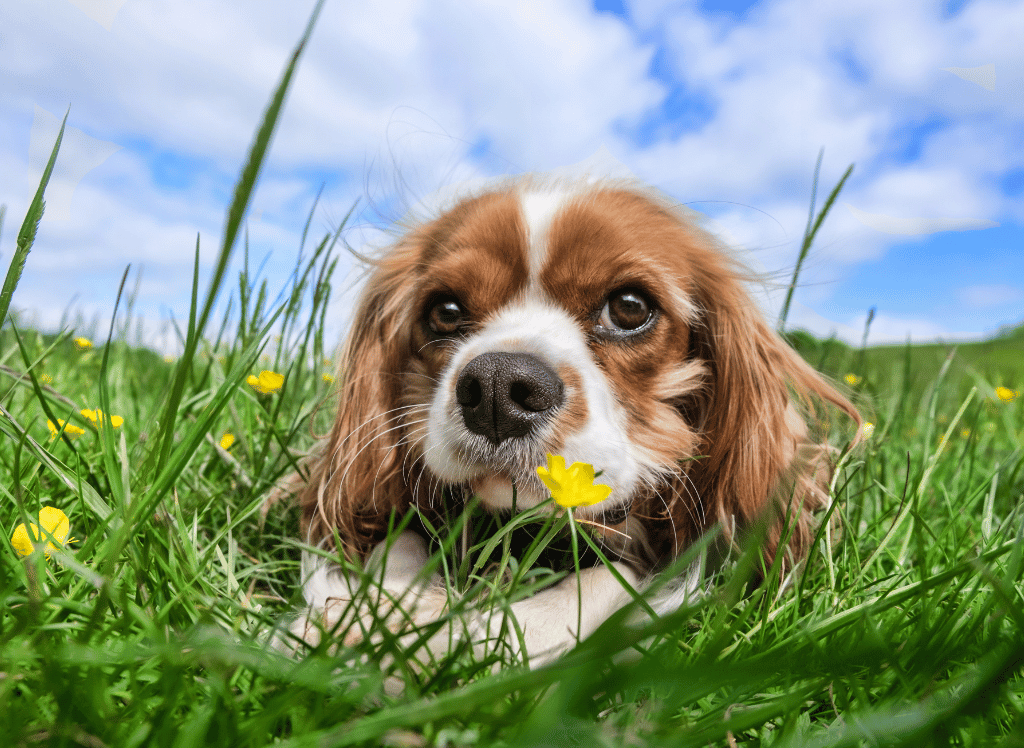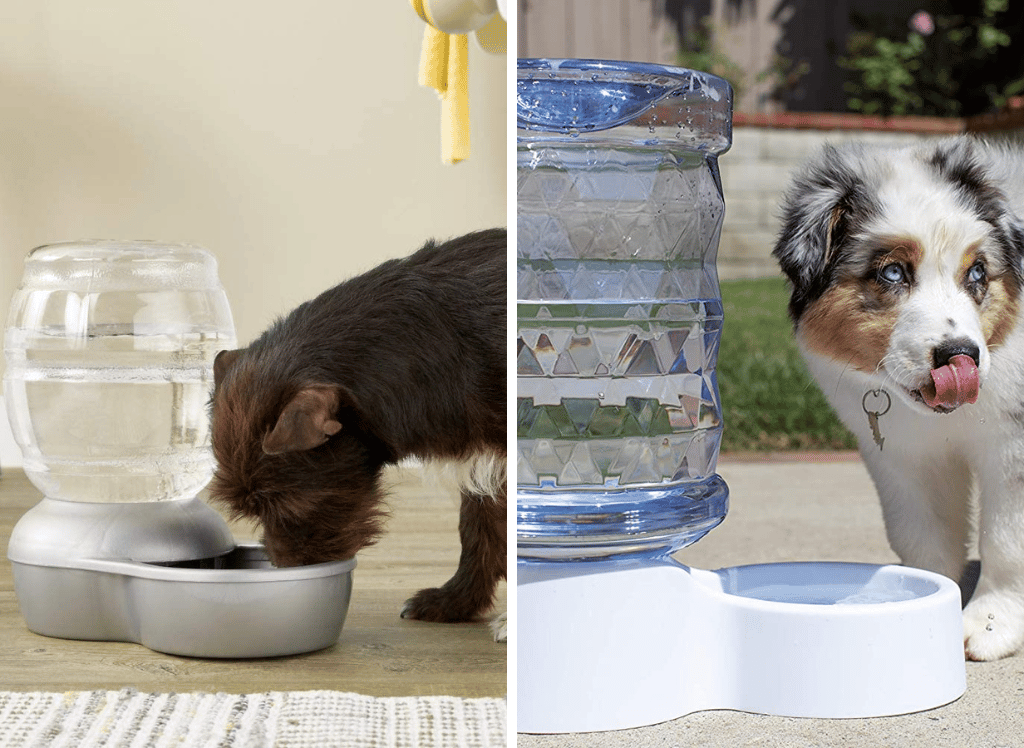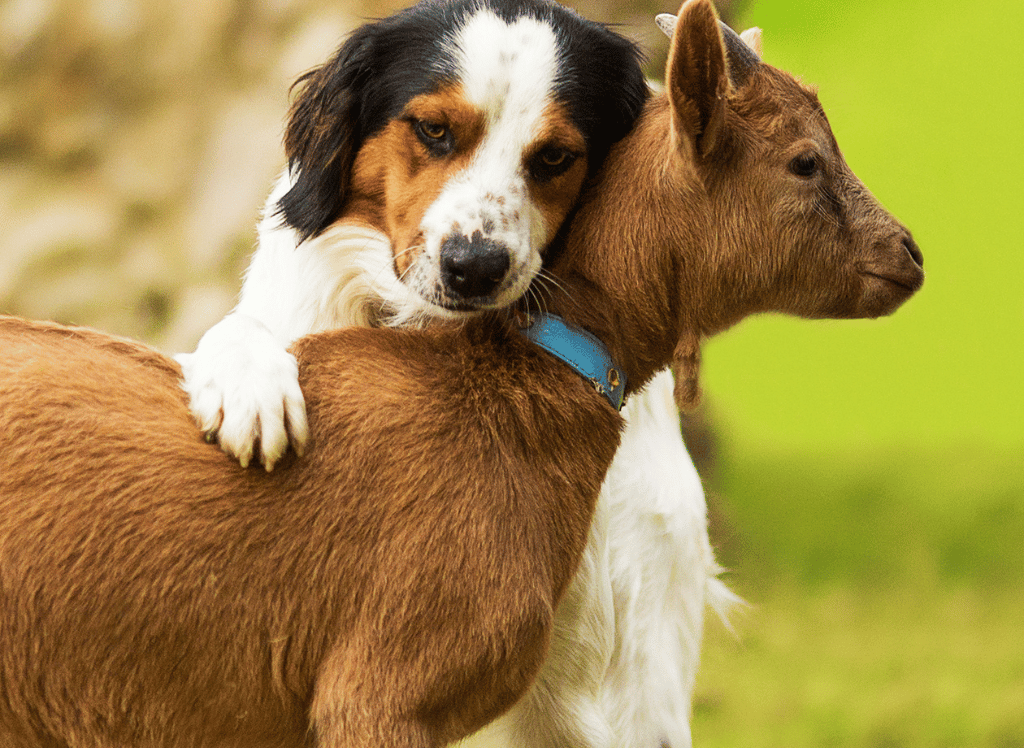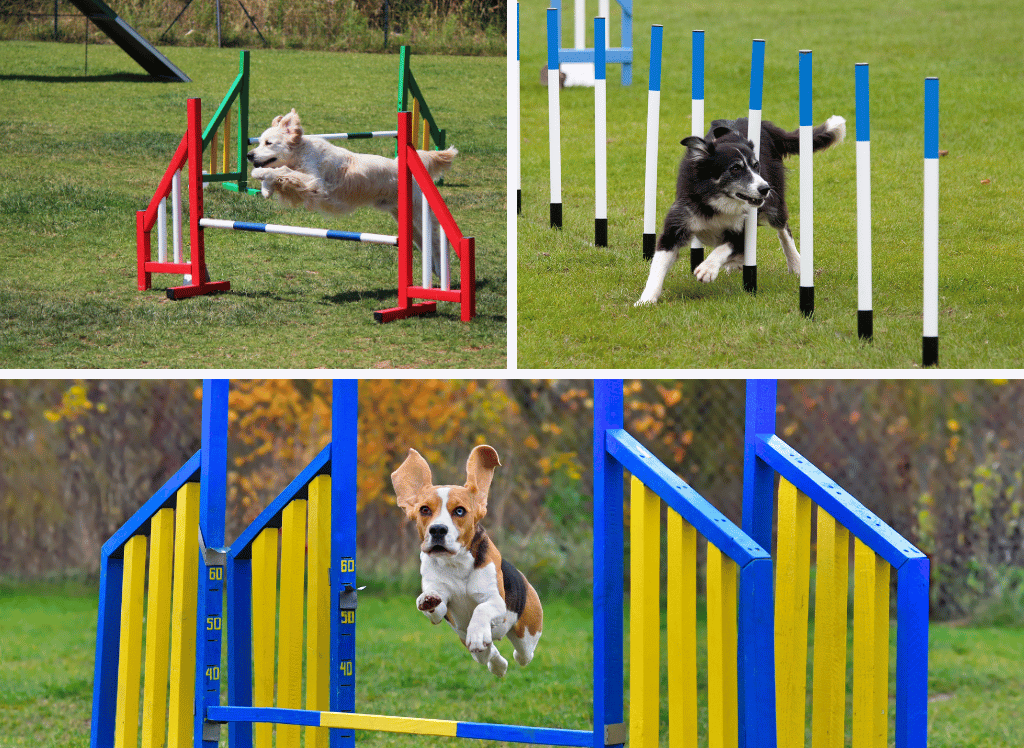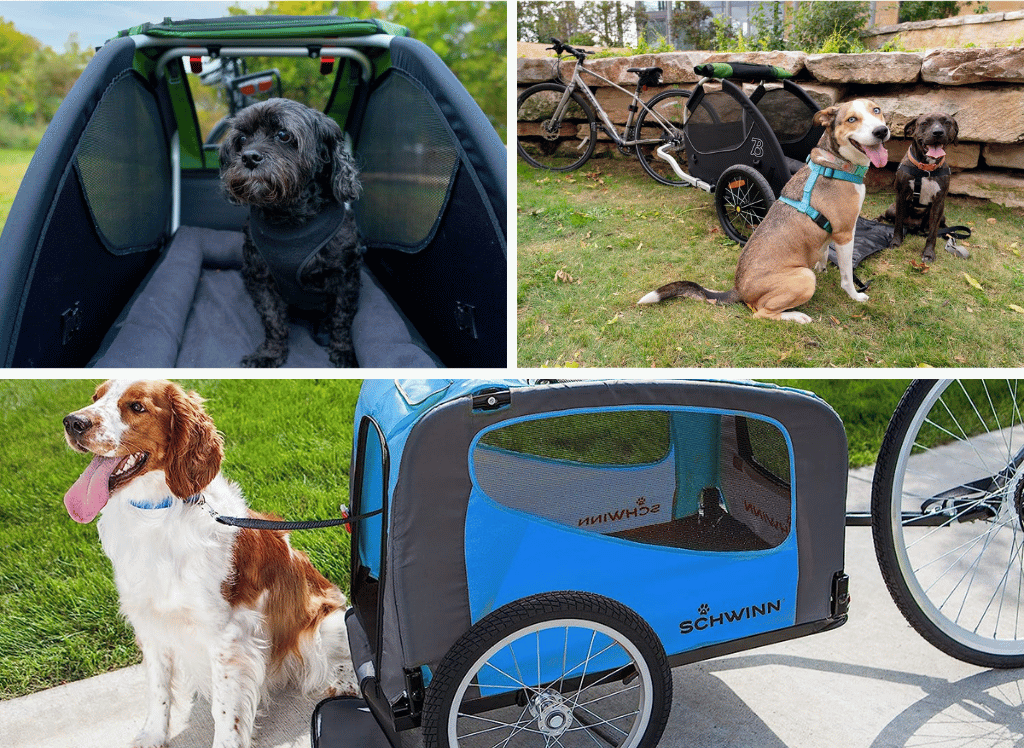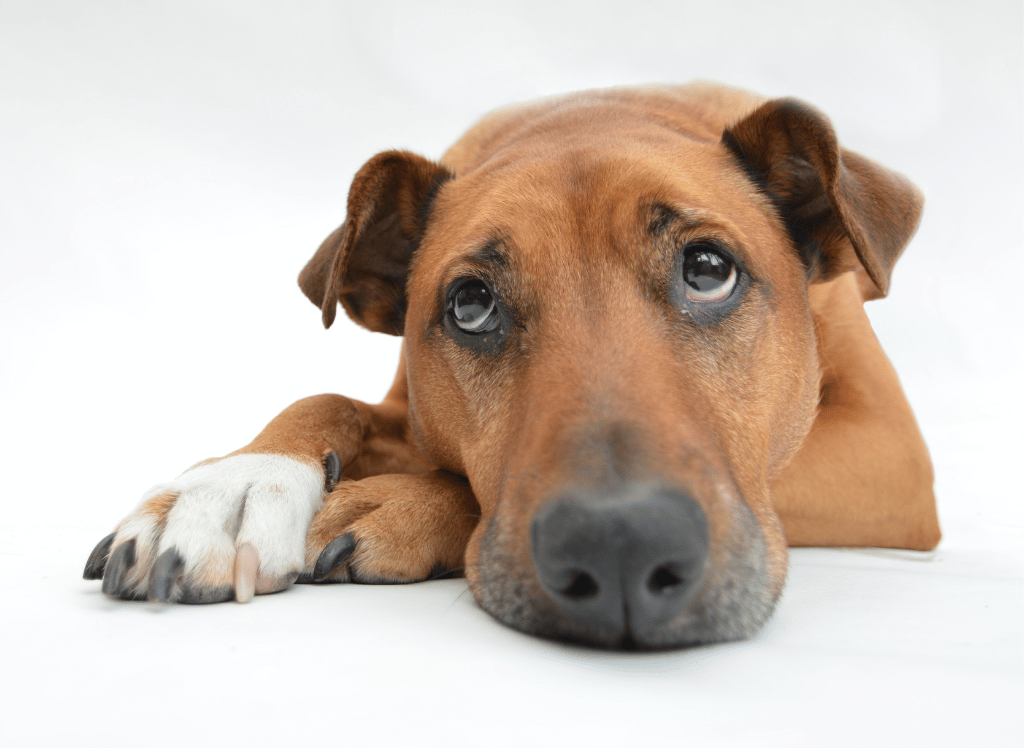 Are you looking for the best products? We've got you covered! Our editors independently selected each item on this list. FactsFanatics may collect a share of sales or other compensation (at no cost to you) from links found within these pages if they choose to buy something (that's how we stay in business); as an Amazon Associate, we earn from qualifying purchases. Reviews have been edited for length and clarity; enjoy finding your next favorite thing today!